As is clear in the
Art & Science of Rewards and Recognition e-book
, organizations will achieve the best return on their investment if they follow the best practices related to program and reward design. Based on the research and ISO 10018 quality management standards, most rewards and recognition investments will achieve a much clearer return-on-investment if planners not only address program design but also the very way rewards are selected and delivered.
The following companies are committed to providing a rewards experience with personalization, customization and other ways to maximize the reward impact.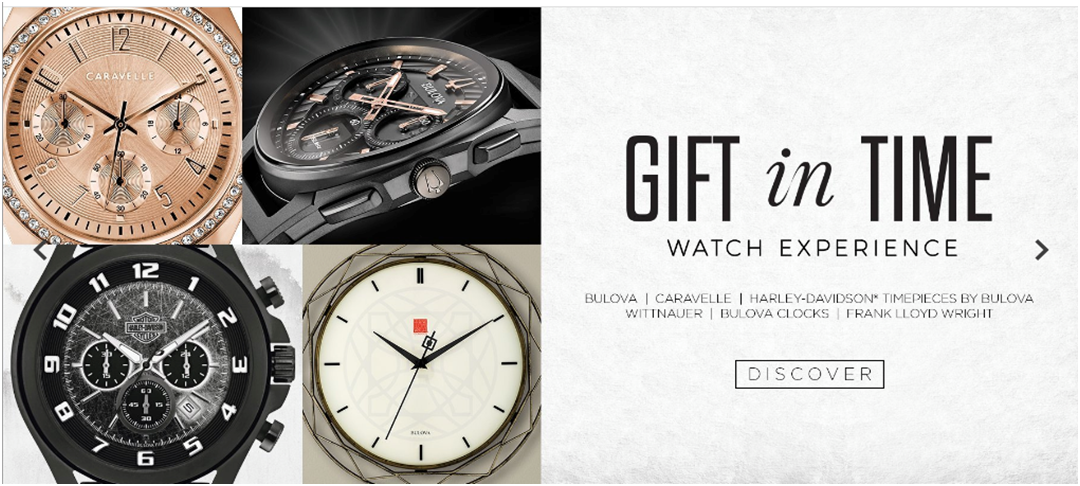 Adrienne Forrest, Vice President of Bulova's Corporate Sales division, cites a greater appreciation for the reward experience (and not just the reward) and a growing body of research on the scientific use of rewards as positive trends in the business of recognition. She is particularly pleased with industry research demonstrating the importance of how rewards are presented, customized and delivered in terms of impact on recipients, and she believes Bulova's unique portfolio of time pieces, connecting its 142 years of tradition and innovation with cutting-edge design and its ability to customize both the time pieces and gift boxes to maximize the impact, provide Bulova with a competitive advantage in a time when authenticity carries more weight.
Forrest says that Bulova is also committed to innovation, noting that last year the company launched the Curv collection, featuring the world's first curved chronograph movement. In keeping with its vision of combining tradition with today's fashions, Bulova has brought back Rubaiyat, the name for its first-ever woman's timepiece in 1917. The company has also created an experiential program for events. "Bulova has focused on the meeting planner market for several years," says Forrest. "Bulova is the perfect choice for this growing business segment in that its various brands and price points work with any budget or style requirement. Bulova offers various options to planners. We can also offer sizing of the watches onsite for added excitement."
VP, Bulova Corporate Sales
aforrest@bulova.com

Citizen Watches: The Importance of Performance and Presentation
Citizen, a pioneer in watchmaking and innovative technology since 1918, promotes excellence with a deep-rooted respect for craftsmanship. For over 40 years, Citizen's Eco-Drive technology has set the brand apart. A simple yet revolutionary concept, Eco-Drive harnesses the power of light from any light source and converts it into energy.
A leader in the incentives market, Citizen offers one of the widest arrays of product offerings in the watch and clock categories, with many choices in pricing, fashion and function. Proper program design considers participant demographics, including age, gender and regional influences. Citizen continues to be the brand of choice in programs due to its wide consumer appeal.
Each award experience is different based on the event, participant base and theme. As the watch brand with the largest market share in mid-priced luxury watches, Citizen has category top-performers in each gender, function and price segment, allowing customers to create a truly custom experience with an assortment curated just for their participants.
The 2015 IMA/IRF Participant Study was the first to uncover the importance of the award presentation. Citizen provides all its watches in very attractive retail gift boxes with the result being a high perceived award value when it is presented in a public setting. Citizen also offers engraving options so the watch is a constant reminder of an accomplishment achieved and serves as a positive motivator for future performance.


Contact:
Richard Low, Vice President of Special Markets
310-225-4987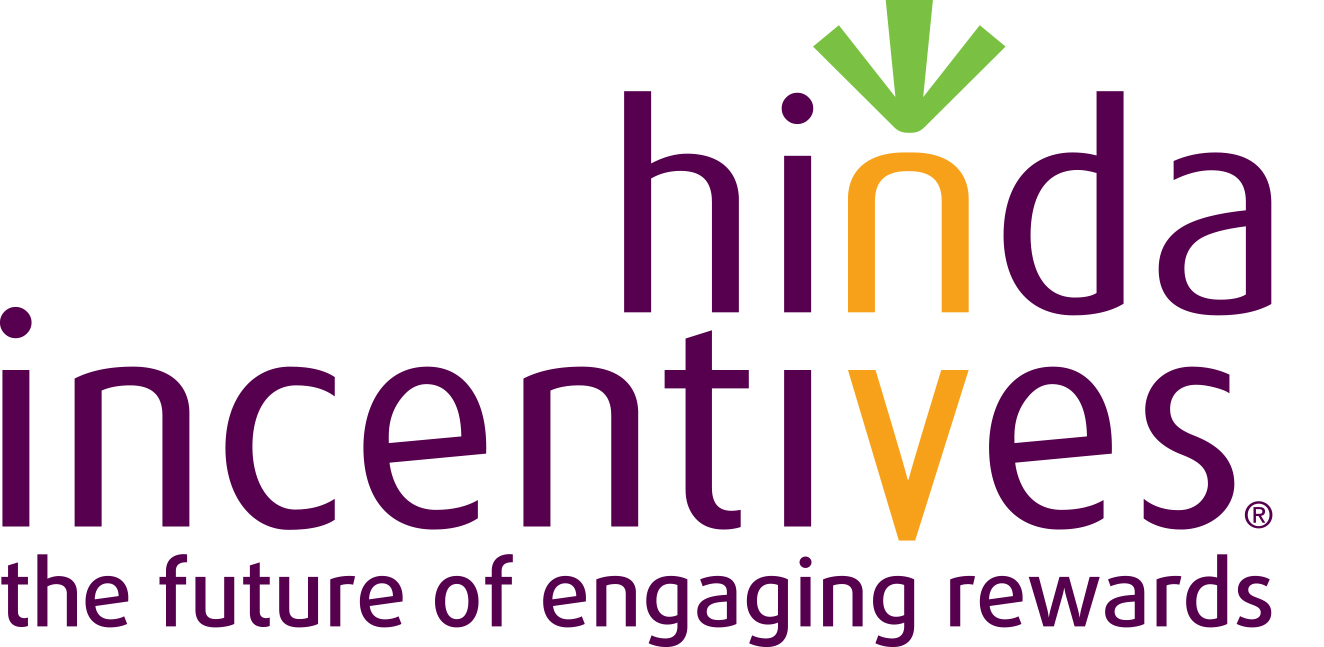 Chicago-based Hinda Incentives helps companies deliver rewards solutions that engage and inspire. Hinda prides itself on keeping up with merchandising trends and offering a variety of products to suit the tastes and preferences of every generation, including:
Brand-name merchandise.

Instant, easy and intuitive digital awards featuring books, music and movies.

Individual travel award opportunities.

Custom manufacturing – our manufacturing facility delivers jewelry and other unique custom items to meet your budgets and your needs

Global award fulfillment capabilities through alliances with international partners

Customization options that include communications, branding, personalization and delivery.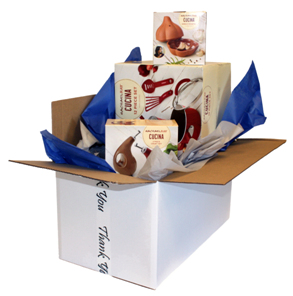 Hinda knows how to approach, manage, and motivate different generations in the workforce through research and trend monitoring to help you get the most out of your talent. Our focus on Generational Merchandising targets the specific characteristics and desires of each generation to develop product collections and award offerings as diverse as your employees, customers and salesforce. This attention to detail provides the most effective award assortment in the industry, designed to engage and motivate those who have an influence on your business.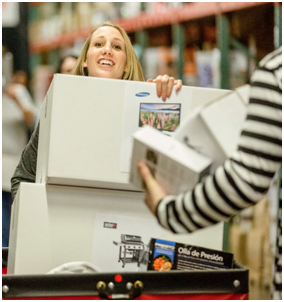 Hinda offers the Warehouse Dash®. In this action-packed event, your participants run through our warehouse aisles and grab any merchandise they want in a heart-pounding race against the clock! Hinda Events brings on-site reward and gifting opportunities to you for loyalty, incentive or travel programs, and for corporate meetings and recognition events. Our Web-based system, EngagementLINK® provides an efficient, immediate and effective way to manage multiple reward initiatives, allowing participants to accumulate points from all programs. Our AwardHQ™ mobile app provides your participants with the ability to access program information, browse and search millions of items, track points, and order awards.
Alisa Schafer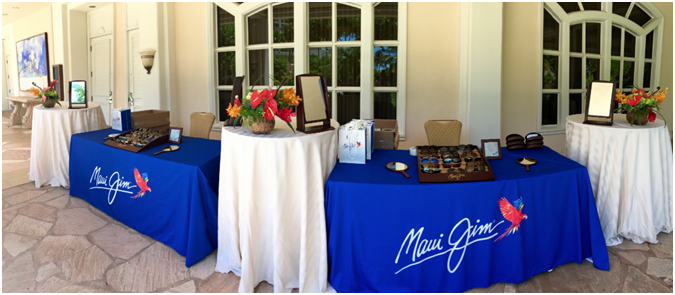 When it comes to making people feel appreciated, giving them a memorable experience, and selecting a gift vendor that's easy to work with, there's only one choice to make. The World's Most Memorable Gift Experience™ from Maui Jim sunglasses saves you time, money, and stress with our turnkey solutions, international capabilities, customization, fast turnaround, and unforgettable "Aloha" service.
When you choose Maui Jim, you can trust your event will be held to the highest standard and will be portrayed in the best possible light for a truly memorable experience. You work with our expert event coordinators to pick out a package of 18 different styles of glasses, or customize your own. You can also customize accessories like cases or cleaning clothes to add that extra touch of personalization. We then arrive at your event complete with displays, products and proceed to give your attendees the instant gratification of selecting and receiving their favorite pair of Maui Jim sunglasses. Your guests will be guided by our highly-trained employees to choose from styles that appeal to every demographic and lifestyle. Our domestic minimum is just 25 (international is 50) and we never charge for staff, airfare, displays, car rentals or incidentals and only require a month's notice for domestic events (two months for international).
Maui Jim sunglasses are the perfect lifestyle accessory for comfort, eye health, and fashion. Let's make memories happen. To learn more, visit our website at www.mauijimcorporategifts.com.
Eric Linder (Elika)
Manager, Corporate Gifts Marketing & Operations

Pulse Experiential Travel is focused on unique packages and experiences that people can't easily create on their own. "Our packages often are dictated by the creativity of our customers or their participants," says company founder Marc Matthews. "Often, we can turn one of these highly customized programs into a package that we can then offer to others. If you look in our catalog, we have a very robust selection, from basic experiences to golf and ski packages, wine tours, food festivals, hunting and fishing, Oscars, Grammys, major big sporting events, etc.
Participants can book a hotel bungalow above a tropical lagoon, take cooking classes on the Amalfi Coast and have once in a lifetime experiences they'll never forget." Organizations use Pulse Experiential Travel's packages for everything from traditional incentive, recognition and loyalty programs to promotions, length-of-service awards, recognition, ad hoc rewards and business gifts. The company offers what Matthews calls a "concierge service." People never have to call an airline, hotel, or venue.
Pulse's customer service desk handles everything, and can be reached by travelers 24/7 from anywhere around the world to help resolve an issue. It "white labels" the participant gift package and redemption websites so that its brand remains invisible, and can also create branded redemption micro-sites for specific clients. "The second someone redeems their voucher, he or she can begin planning their experience," explains Matthews. "Our fulfillment is all based on the philosophy that we have to make everything memorable – even the booking experience."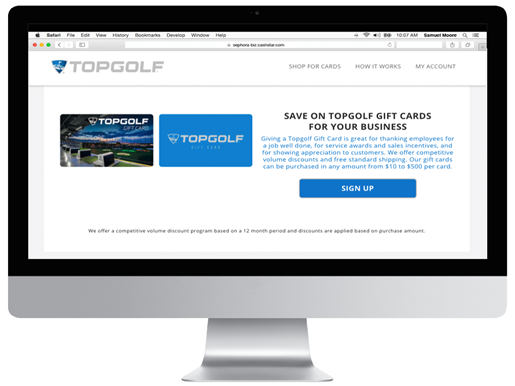 Velocity B2B launched in October 2016 as an independent business unit of CashStar (now a Blackhawk Network business) to provide merchants with comprehensive services for B2B gift card program management. While there are companies that do pieces of what Velocity B2B does, the company offers end-to-end program management. By combining its extensive expertise with technology-driven operations, industry-leading security compliance and risk indemnification, it is able to help brands maximize their revenue within the $26-plus billion B2B gift card market. It acts as a seamless extension of the client's team and brand, enabling their internal gift card and marketing teams to focus on their consumer gifting programs. The Velocity B2B team delivers end-to-end business-to-business gift card program management services, while the client maintains oversight and brand control. Its team of experienced gift card professionals develops an individualized gift card strategy for each brand, starting by assessing each brand's opportunity, identifying resource and gap analysis, and taking into account business management.
Once the program scope is determined, it handles sales and marketing of the program, including value proposition and alignment, management and execution, and partner management. In addition, Velocity B2B takes care of the order desk, systems, plastic fulfillment services and process management. It also handles all payment processing, billing and collections, and settlement and reporting. All this is done in a way that mitigates risk and ensures compliance. As it plans for the future, we'll continue incorporating feedback from our customers and design new offerings based on those needs.
207-805-5623