1-800-FLOWERS.COM, Inc. Offers Unique Insights Into Gift Trends
A top business gifting brand sees a rise in 'surprise-and-delight' programs, strategic gifting, and customization and personalization.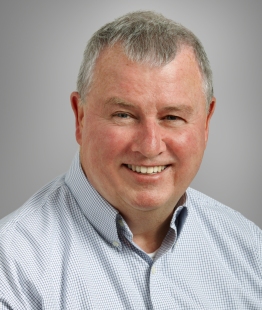 As one of the nation's largest purveyors of flowers, food and other gifts, perhaps no company better reflects trends in the business gift marketplace than 1-800-FLOWERS.COM, Inc. RRN recently caught up with Earl Hurd, the company's National Sales Manager for Business Gift Services, to get his insights into the latest gift-giving trends and how his company is benefitting from them.
To Hurd, the biggest growth areas in the gifting marketplace are "surprise-and-delight" programs that build closer relationships with customers, an increase in what he calls "strategic gifting" and more creative use of customization and personalization options to enhance the reward experience.
While Hurd could not publicly share the dollar value of the company's corporate business, their scope is large enough to make them among the biggest incentive or master fulfillment organizations in the U.S. The company defines the corporate business segment as any account that is a business rather than an individual. Its best known brands, besides 1-800-Flowers.com and Harry & David, include Cheryl's Cookies, The Popcorn Factory, Personalization Universe (for individuals seeking to send one personalized gift at a time), Wolferman's baked goods, Simply Chocolate and Goodsey, a new brand offering specialty gifts. Hurd says one of his biggest marketing challenges is making customers aware of the full breadth of brands and gifts now available from the company. Flowers, he explains, is the bellwether brand year-round. Food is also a year-round gift, but the volume surges exponentially in holiday seasons. About two-thirds of his corporate business consists of flowers, with the remainder being gourmet food and gift baskets.
From One Florist Shop to a Publicly-Traded Company

The company was founded in the last century by Jim McCann, now Executive Chairman, who grew it from one florist to a chain in the New York City area. According to the company's Wikipedia page, it evolved into 1-800-Flowers.com when in 1986 McCann bought the rights to a defunct company using that phone number to sell flowers through a catalog and via phone. The floral company got several big breaks in the 1990s. During the first Gulf War, the company continued to advertise on CNN when many advertisers pulled out, providing it with valuable extra exposure, and in 1992 AT&T featured the company in a major ad campaign during the Olympics. Around that time Jim McCann's younger brother Chris joined the firm, in part to help build its technology infrastructure. As a result, the company was among the first to sell products via the early online services Compuserve and AOL, and it was also an early pioneer in the use of the Internet for sales and chatbots for customer service. Over time, the company acquired or launched a number of other brands to create a one-stop-shop for gifting needs. Chris McCann is now the Chief Executive Officer of 1-800-FLOWERS.COM, Inc.
A key growth area, Hurd explains, is "surprise-and-delight" programs. To Hurd, a company's CRM (customer relationship management) platform should "tell you when it's time to send a gift, not the calendar." The reason you send gifts is that you want people to know you care and that you're willing to go the extra step to demonstrate that. The reason for a surprise-and-delight gift might be "to celebrate an important milestone with a customer, a new contract, or to apologize for a mistake," he says. Hurd believes that flowers are more effective because "they make a much strongercx personal connection. Flowers make people smile." He notes that while accepting responsibility for errors and apologizing goes a long way, "we have seen concrete evidence that going the extra step to apologize with a personal gift can have an even greater impact."
Companies also send flowers to express sympathy, to congratulate employees on the birth of a child, to express get-well wishes, or to say 'hang in there.' Says Hurd: "We're seeing increased use of flowers and other gifts sent to the homes of employees who are being asked to work especially long hours or to be away from home for extended periods to express appreciation to family members for the sacrifices the employee is making." He says he finds it surprising that so many companies wait until the holidays to send gifts, when so many of their competitors are doing the same thing. "Gifts stand out much more when given outside of the typical holiday season," Hurd explains, "when people least expect them and when they aren't receiving gifts from anyone else."
The Rise of Corporate Gifting
Another important trend, Hurd says, is "strategic gifting." Today, with CRM platforms, companies can analyze customer activities to see what happens with the relationship over time because of the gifts. They can measure the behavior of customers who are given gifts versus the behavior of those that don't. "Once organizations see the financial connection between gifting and results, they tend to make the programs more structured. A lot of companies still leave gifting up to the discretion of salespeople or others, meaning they can't easily track expenditures, who is receiving the gift and for what purpose, or even what they're giving, for that matter." Now that it's easier to track the ROI of gifting through CRM systems, Hurd believes it makes sense for organizations to better manage their gifting to ensure not only that they track expenditures, but also so they can better control the nature of the gifts offered. Gifting, he believes, is a personal and high-impact business tool. "Once management realizes that, companies want to take a closer look at how they're used. How do you know that what employees are giving is tasteful and consistent with their brand?" Hurd says he sees a clear connection between companies that are market leaders and those that are consolidating and more closely managing their gifting strategies.
As a result, 1-800-FLOWERS.COM offers the ability for companies to set up their own customized gift portals--a Partner Gifting Site (PGS)--co-branded with their logos and other information, with the brands and products curated, if desired, by price or other factors to ensure that gifts are consistent with the company's brand, message, or policies. The company can also add fields to the order platform requiring employees to indicate the reason for the gift or other important information, as well as a central payment processing system to manage expenditures. Hurd notes that gifting occurs in virtually every team or department of an organization, and larger ones will integrate their internal purchasing system with their PGS, an arrangement he calls "Punch-Out."
"We can provide APIs (electronic connections) to our catalog so that companies can add our products directly into their catalogs," he says, adding that the company can also provide "team gifts" for companies that don't permit individual gifts but might allow gifts for the entire team. Hurd believes the key to success with corporate customers is understanding their objectives, audience, brand and budget to develop the best gifting strategy. Even though his company doesn't provide full-service engagement solutions, he encouraged Laura Koumas, a Key Account Manager, to take the Enterprise Engagement Alliance's
Certified Engagement Practitioner
(CEP) training and certification program, and she recently earned her CEP designation. "We want our clients to know that we understand the context of their gifting and other programs, so that we can make recommendations in line with their needs," he says. "Only if the customer gets value from their programs will they remain a customer."
The Impact of Personalization
Hurd believes that personalization and customization are becoming increasingly important, as businesspeople understand the signifigance of the reward experience. "I'm always surprised by the number of companies that take no additional steps to personalize or customize a reward," He says, noting that most loyalty rewards are delivered with no message at all, even though the recipients have earned these rewards through loyalty. "Imagine the surprise and pleasure people would get if those loyalty rewards arrived with a customized and personalized message demonstrating that the company appreciates the loyalty that made those rewards possible." He says his company has created special bouquets using its vast local delivery network to help companies with new product launches to support the message they're trying to convey.
While food gifts are generally purchased in bulk, with clients sending in spreadsheets with recipient information and copy for personal notes, Hurd says flowers are most often purchased individually for specific occasions. Because of the need for personalization and customization in personal gifting, the company's systems are set up to handle these requirements for business customers. Due to the vast number of consumers who purchase through 1-800-FLOWERS.COM, many of the company's corporate customers come from individuals who have purchased its products for personal gifts. That said, Hurd notes that the company works with all types of resellers, including incentive, recognition, loyalty and other promotional companies.
For More Information
Earl Hurd
1516.237.783
---
Master the Principles of Enterprise Engagement to Achieve Organizational Goals and Enhance Your Career
Profit from a new systematic approach to engagement to enhance your organization's brand equity; increase sales, productivity, quality, innovation, and safety, and reduce risks.
Achieve ISO 10018 Quality People Management Certification to demonstrate your organization's strategic commitment to people to your customers, employees, distribution partners, vendors, communities, investors, and regulators.
Live Education:
Enterprise Engagement in Action Conference at Engagement World
, April 3, 2019, in San Francisco, in conjunction with the Selling Power Sales 3.0 Conference. Learn about the economics, framework, and implementation process for an ISO certifiable approach to achieving organizational objectives by strategically fostering the proactive involvement of all stakeholders.
Learn more and register now
.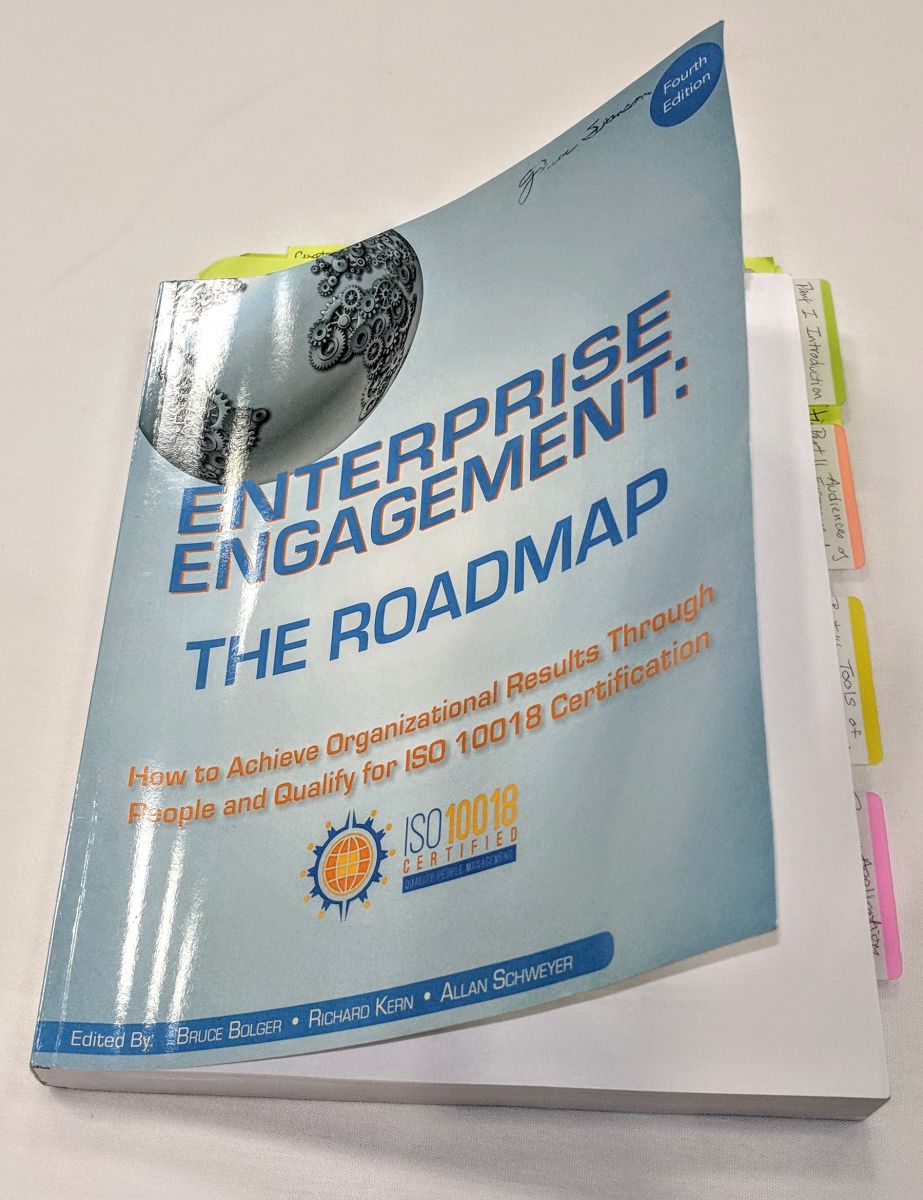 In Print:

Enterprise Engagement: The Roadmap 4th Edition, How to Achieve Organizational Results Through People and Quality for ISO 10018 Certification.
The first and most comprehensive book on Enterprise Engagement and the new ISO 9001 and ISO 10018 quality people management standards.
Online:

The Enterprise Engagement Academy at EEA.tmlu.org
, providing the only formal training on Enterprise Engagement and the new ISO 9001 and ISO 10018 quality people management standards. Provides preparation for professionals to support organizations seeking ISO 10018 employer or solution provider certification, as well as elective courses on Trade Show Engagement, Rewards and Recognition, Government, and other topics.
Plus
: 10-minute short course:
click here
for a 10-minute introduction to Enterprise Engagement and ISO standards on
Coggno.com
.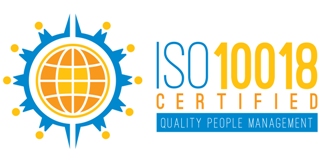 Services: The International Center for Enterprise Engagement at TheICEE.org
, offering: ISO 10018 certification for employers, solution providers, and Enterprise Engagement technology platforms; Human Resources and Human Capital audits for organizations seeking to benchmark their practices and related Advisory services for the hospitality field.
The Engagement Agency at EngagementAgency.net
, offering: complete support services for employers, solution providers, and technology firms seeking to profit from formal engagement practices for themselves or their clients, including Brand and Capability audits for solution providers to make sure their products and services are up to date.
C-Suite Advisory Service
—Education of boards, investors, and C-suite executives on the economics, framework, and implementation processes of Enterprise Engagement.
Speakers Bureau
—Select the right speaker on any aspect of engagement for your next event.
Mergers and Acquisitions.
The Engagement Agency's Mergers and Acquisition group is aware of multiple companies seeking to purchase firms in the engagement field. Contact Michael Mazer in confidence if your company is potentially for sale at 303-320-3777.
Enterprise Engagement Benchmark Tools:
The Enterprise Engagement Alliance offers three tools to help organizations profit from Engagement.
Click here
to access the tools.
• ROI of Engagement Calculator. Use this tool to determine the potential return-on-investment of an engagement strategy.
• EE Benchmark Indicator. Confidentially benchmark your organization's Enterprise Engagement practices against organizations and best practices.
• Compare Your Company's Level of Engagement. Quickly compare your organization's level of engagement to those of others based on the same criteria as the EEA's Engaged Company Stock Index.
• Gauge Your Personal Level of Engagement. This survey, donated by Horsepower, enables individuals to gauge their own personal levels of engagement.
For more information, contact Bruce Bolger at Bolger@TheEEA.org, 914-591-7600, ext. 230.