Experiences: Stagecoach Inn, Goshen, NY
This article launches a new RRN series highlighting "short escapes," authentic experiential getaways that can be packaged into all-inclusive individual incentive trips for two or customized for small groups or for use as occasional retreats for companies that have significantly reduced in-office collaboration. See the suggested experiential gift package from the Stagecoach Inn in Goshen for rewards, recognition, or as gifts for special occasions.



Corporate and Social Events
Goshen History
Things to Do
An Experiential Gift Package From the Stagecoach Inn

Just under 60 miles from New York City sits Goshen, a scenic town little known but to lovers of harness racing. Easily accessible by train or car, it provides an ideal setting for small corporate retreats, weddings and reunions, or small group or individual incentive trips. It is so near New York City that it can be used for one-day events or easily two-day or more retreats or collaborative meetings. While the region has day-hiking and numerous attractions, it's a headliner for those who love horse racing, because it is arguably one of the birthplaces of the sport in the US, boasting the nation's first ½-mile track, built in 1838 and still in occasional use for events. It is also the place where harness racing began, with a museum dedicated to the sport.

What makes the town of Goshen possible as a destination is the Stagecoach Inn. Yes,it is originally a stage coach inn now restored into a high-end inn and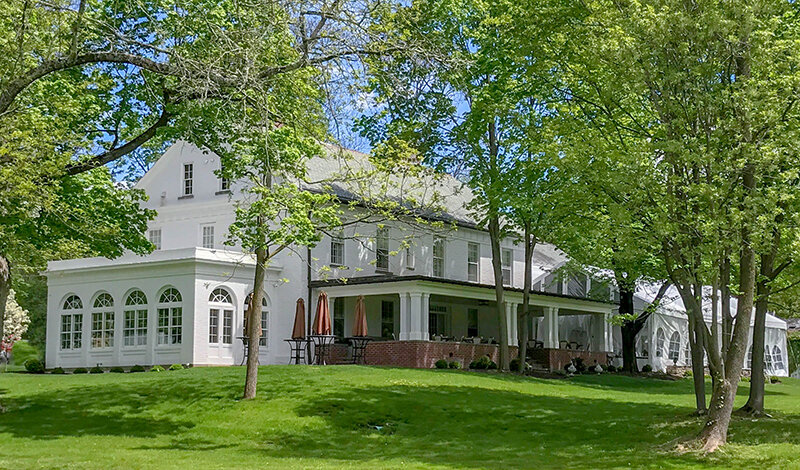 event space. It has five fine rooms with historic décor and modern comforts and amenities, a very good restaurant, spacious, shaded grounds well-suited to ceremonies, lawn games, and relaxation.

The inn is located just off Goshen's main green, which is appealingly surrounded by its historic churches and a dramatic monument atop a mass grave of those lost in the nearby Battle of Minisink during the Revolutionary War. Its restaurant offers a combination of traditional American and European-inspired offerings that were highly agreeable to our unnannouced party of four on a recent meal, well beyond anything possible at most chain hotels.

Corporate and Social Events

Owned and run by Faith Ferguson, herself a corporate and social event planner, the inn can accommodate up to 100 people for galas and formal events or can be set up in rounds or theater style in a light and airy meeting room, The adjacent terrace can be closed off in glass in the winter. The inn has high-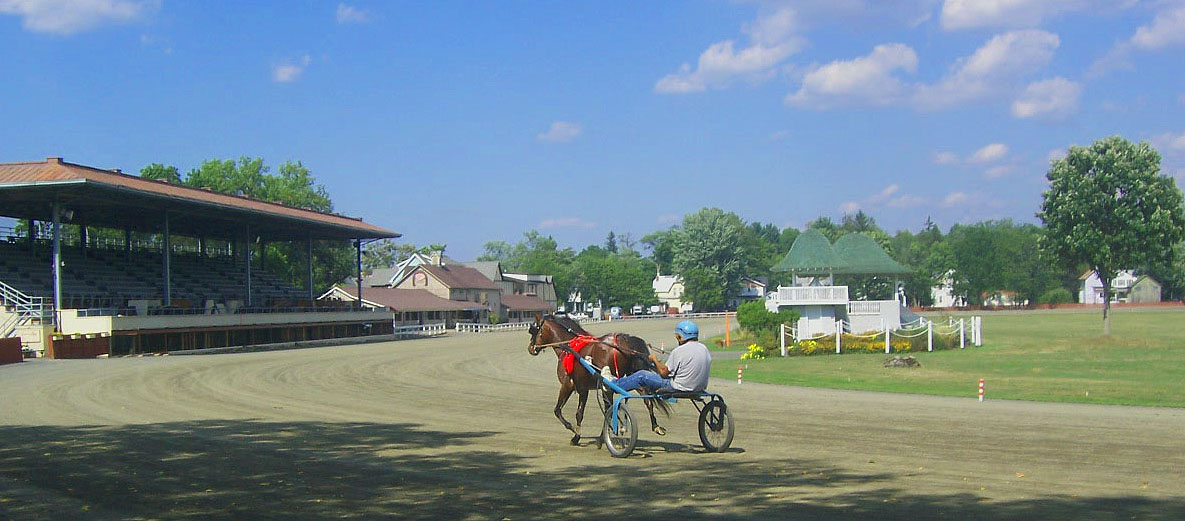 speed wifi throughout and a 65" flat screen monitor with HDMI cable and a microphone and PA system available to rent.

In its dining rooms, it can host small meetings for 10-12 or larger gatherings of up to 50. The Atrium room accommodates up to 100 for celebrations, galas, and other formal events. Click here for more details.

The 31-room high-end Orange Inn boutique hotel has opened shortly just a short walk down the road, and there are a Fairfield Inn, Residence Inn, Marriott by Courtyard, and Holiday Inn all within a short drive to meet the lodging needs of larger groups.


Goshen History

Inhabited for thousands of years by Native Americans, Goshen has a long history of European settlement dating back to the 1600s, with its residents active in the French-American, Revolutionary, Civil Wars, and beyond. While the Wikipedia entry includes multiple intriguing stories, Goshen is most notable for its history in horse and harness racing, making it an ideal destination with anyone passionate about the sport.


Things to Do

The Stagecoach Inn web site features a wide variety of options in the region, including museums, outdoor recreation, craft beverages, farm stands and seasonal activities. Discount shoppers will enjoy the enormous Woodbury Commons premium outlets, which are under 30 minutes away by car. The historic town of Warwick is under 30 minutes by car, as is the world-class Storm King Art Center. It features the sculptures of many famous artists set in a manicured valley with fields, forests, and bridal paths nestled between Schunemunk Mountain and the mountains of the Black Rock Forest. The visit includes miles of trails, some of them among the sculptures laid out across the valley. Bike rentals are available.

Day-hikers will find a variety of trails within a short drive of Goshen. The remarkable 1,610-feet Schunemunk Mountain is just a half-hour drive away.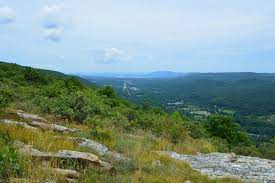 Click here for other trail options on the mountain. The shortest hike to experience its marvels is about a seven-mile loop, some of it steep, but offers remarkable 365-degree views that can include the Catskill Mountains and even the distant towers of Manhattan on a very clear day. The nearly bald summit is a long ridge made of a unique conglomerate rock that looks like concrete mixed with large pebbles and dramatic rock formations called the "megaliths." Just a little further away is a park with a much larger selection of trails, many less rugged than Schunemunk Mountain, known as the Black Rock Forest. Depending on the route you select, you'll find beautiful views of the Hudson River winding through one of its most dramatic sections, known as the Hudson River Gorge here because of the steep hills lining its shores on both sides.

Mountain bikers and hikers can also take advantage of the even closer HIghland Lakes State Park.


An Experiential Gift Package From the Stagecoach Inn

Here is a sample gift package for $595 for two people from the leading inn in the area. It's a two-day, one night premium bed and breakfast accommodations in a king room, good for three years. Contact the inn for current pricing and/or to customize a gift package. The program includes:

Welcome Package at the Stagecoach Inn, which includes a bottle of J. Cuvee Sparkling wine and chocolate-covered strawberries.
Breakfast included.
$100 gift certificate towards dinner at Dobbins Tavern in the Stagecoach Inn (outdoor dining available in season).
Choose your escape (included in the cost):

Option 1 – Southern Orange County and the Warwick Valley
•Tour Warwick Valley Winery and two craft breweries, distilleries, cider mills, or wineries
•$75 Gift certificate for lunch at Warwick Valley Winery and a tasting if you choose
•Tour two or more additional craft beverage locations within 20 miles of the Inn, we will provide several options at check-in.

Option 2 – Northern Orange County and the Shawagunk Mountain Valley
•Tour Angry Orchard Cider Mill and two craft breweries, distilleries, cider mills or wineries
•$75 Gift certificate for lunch at Angry Orchard and a tasting if you choose
•Tour 2 or more additional craft beverage locations within 20 miles of the Inn, we will provide several options at check-in

Additional nights or extras like a car service can be added at the customer's cost after booking.

About the inn. The Stagecoach Inn was originally constructed in 1747 and the beautifully appointed guest rooms are named for historical figures who were a part of the inn's founding and history. The inn's past is an authentic slice of Americana. Guests enjoy historic facets from bygone eras in all of the rooms, public spaces and gracious grounds. The modern amenities and unique spaces make it a premiere guest house in the Hudson Valley. The innkeepers are dedicated to providing guests the best experience during their stays. Walking from the inn just down Main Street in Goshen, visitors will find the Harness Racing Museum and Hall of Fame and the Goshen Historic Track. If visiting during June or over Great American Weekend, guests can even catch some races but any given day they can see some horses practicing on the track. There is so much to see and do in Goshen and around Orange County, NY. From Legoland to West Point to Woodbury Commons (an enormous outlet mall) to all the hiking trails in the Hudson Highlighlans, guests will find something for everyone. Enjoy numerous outdoor adventures including hiking, paddling, skiing and golf plus, the huge growth of local Craft Beverage experiences from wineries, to cider mills to craft breweries. Come see what makes this part of the Hudson Valley one of the top destinations in the country.

For More Information

General Reservations. Call 845-294-5526; email reservations@stagecoachny.com. To purchase this package, ask about the "Short Escapes" program.

Or book a table at the restaurant online at the hotel's web site.

For business meetings, weddings, and other events, contact Faith Ferguson at Faith@Faithferguson.com.