Guest Insight: Gifts Waste Money...Unless You Do it Right
When comparing the
Five Languages of Appreciation in the Workplace
, it's easy to see that employees overwhelmingly don't choose tangible rewards as the primary way they want to be shown appreciation. Only 6% of employees identify tangible gifts as their primary language of appreciation, according to extensive surveys conducted by our company. And they also choose tangible gifts as their least valued language almost 70% of the time. That doesn't mean your company should give up their use: just understand how best to use them.
There are three key components necessary for tangible gifts to be truly encouraging to those who receive them. Otherwise, you are wasting your organization's money.
These components are important to consider because most employee recognition programs emphasize giving gifts. While there is obviously nothing inherently wrong with this, companies end up wasting millions of dollars giving gifts to employees that aren't wanted and do little to improve performance. This is especially true for older employees who are frequently given gifts for "years of service" awards and when they retire. In a recent published study, we found only 2% of the oldest employees choose gifts as the way they want to be shown appreciation.
These recommendations are based on the research I conducted with Gary Chapman finding that the five languages of appreciation at work are: Acts of Service, Quality Time, Words of Affirmation, Tangible Gifts, and Appropriate Physical Touch.
The fact remains, however, that there are people who still value receiving gifts as an expression of appreciation (especially when the gift is paired with another valued appreciation language). If we totally remove gift-giving, then we risk not communicating appreciation or encouragement in ways that are meaningful to these team members.
The Three Keys to Success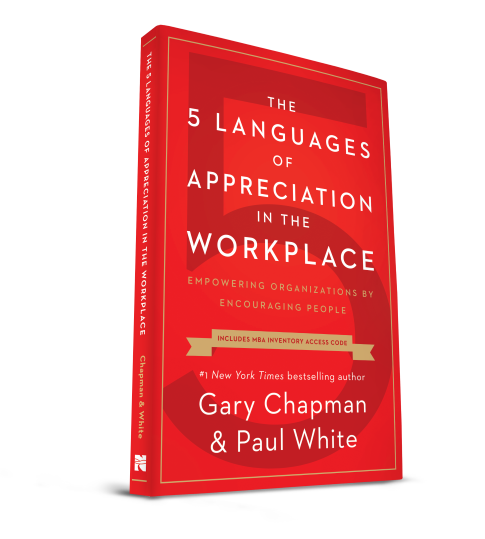 First, you need to give gifts primarily to those individuals who appreciate them. If receiving gifts is the least important language of appreciation to an employee, then you will be far better off to forego the gift and focus on speaking their primary appreciation language. While a gift is extremely important to some individuals, it provides very little affirmation to others. (Note: many people who like to give gifts do not necessarily like to receive gifts as an act of appreciation. So don't assume an enthusiastic gift-giver values receiving them, as well.)
The second key component for an effective expression of appreciation through tangible gifts is: You must give a gift the person values. Tickets for specific experiences – music, sports, theater – are a popular choice among this group. But you have to match the gift to the recipient who will appreciate it. Take the time to get to know your employees and co-workers and what interests them. Dave will feel appreciated when you give him tickets to see his favorite band in concert and football fan Kathy will always remember that you got her tickets to see her favorite team.
Third, the gift must have a personal touch. The language of tangible gifts is an excellent example of the saying "it is the thought that counts." To individuals who feel valued by receiving a gift, a key factor is that you took time to think about what they would like. Those who do not understand the true spirit of gift giving often miss the mark in their attempts to give gifts to others. They fail to understand that it is not solely receiving a gift that matters. Rather, it's only effective when the gift shows that the giver has spent time and energy thinking about the gift. (A word to the wise: steer clear of giving one of the most frequently cited meaningless gifts – coffee mugs; unless it is a very special, specific one carrying a message related to an interest of the recipient.)
Finding the Right Gift
Here are some tips to help you on your journey to finding the perfect workplace gift:
•

The best gift requires a little thoughtfulness.
Thoughtless gifts, which are those bought hastily and with no real personal investment in time, not only miss the mark but also communicate a negative message. These gifts are a perfunctory act and lack a real expression of appreciation.
•

Don't skimp on a personalized card.
Pairing your gift with a thoughtful note can further personalize your appreciation and deepen its impact. A hand-written note shows that you took a moment to reflect upon what you value about that person, what unique contribution they make to your team, and that you care enough to communicate this to them.
•

Remember, the gift may or may not be a "thing" – it could be an experience
(tickets to an concert or sporting event they would really like; a gift card to a nicer restaurant than they typically would choose).
A truly impactful gift is one that shows you took some time
and effort to get a gift that would be meaningful to them.
•

If you choose to give gift cards
, participants from research we conducted report preferring gift cards specific to a store more favorably than just a generic gift card. But the caveat is that there is still a large minority who enjoy the more generic gift card. In fact, gift cards from Visa or Amazon, for example, allow people the freedom to purchase whatever they want.
•

Various types of flex time or comp time
are also highly desired by more and more employees (paid time off, flexible hours, working remotely). Since personal time is a valued resource for many of us, being able to take some time off to run errands, do our Christmas shopping, exercise, go to doctor's appointments, or even sleep-in, is typically received gratefully.
Remember, give gifts to those who appreciate them or give them along with expressing appreciation in the way most meaningful to the individual. And make sure you are giving them a gift that they value. It doesn't have to be expensive to be meaningful. Giving the right gift to a person who appreciates tangible rewards can send a powerful message of thanks, appreciation, and encouragement, and enhance the impact of your effort to appreciate them.
About the author
Dr. Paul White
is CEO and Founder of Appreciation at Work, an organization that provides a culture enhancement process for all types of organizations based on authentic expression of appreciation.
Paul White, Ph.D. President
316-681-4431
---
Education, Certifications, and Information to Activate
Brand Media and Enterprise Engagement

A complete learning, certification, and information program and a course syllabus for educators.
Resources:
The
Brand Media Coalition
, the only guide to the story-telling power of brands and where to source them for business, event, promotional gifting, and rewards and recognition.
Enterprise Engagement Solution Provider Directory
. The only directory of engagement solution providers covering all types of agencies and tactics as well as insights on how to select them.
Communities:
The
Enterprise Engagement Alliance and Advocate
and the
Brand Media Coalition
free resource centers offering access to the latest research, news, and case studies; discounts, promotions, referrals, and commissions, when appropriate to third-party solution providers from participating coalition solution provider members.
Training and Certification
Enterprise Engagement Alliance Education:
Certified Engagement Practitioner; Advanced Engaged Practitioner, and Certified Engagement Solution Provider learning and certification programs on how to implement Stakeholder Capitalism principles at the tactical level.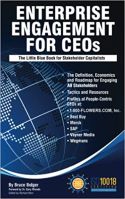 In Print:
This is the definitive implementation guide to Stakeholder Capitalism, written specifically to provide CEOs and their leadership teams a concise overview of the framework, economics, and implementation process of a CEO-led strategic and systematic approach to achieving success through people. (123 pages, $15.99)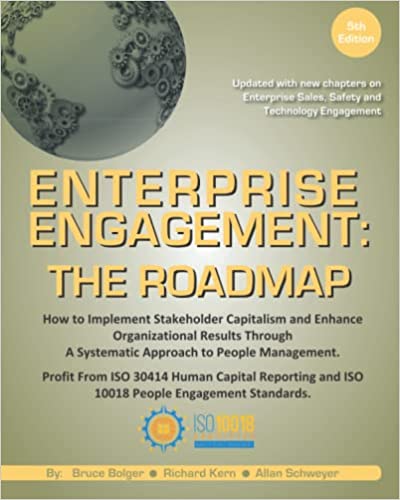 The first and most comprehensive book on Enterprise Engagement and the new ISO 9001 and ISO 10018 quality people management standards. Includes 36 chapters detailing how to better integrate and align engagement efforts across the enterprise. (312 pages, $36.)
Online:
10-minute short course: click here
for a 10-minute introduction to Enterprise Engagement and ISO standards from the Coggno.com learning platform.
Services:
• The Engagement Agency at EngagementAgency.net,
offering: complete support services for employers, solution providers, and technology firms seeking to profit from formal engagement practices for themselves or their clients, including Brand and Capability audits for solution providers to make sure their products and services are up to date.
• C-Suite Advisory Service
—Education of boards, investors, and C-suite executives on the economics, framework, and implementation processes of Enterprise Engagement.
• Speakers Bureau
—Select the right speaker on any aspect of engagement for your next event.
• Mergers and Acquisitions. The Engagement Agency's Mergers and Acquisition group is aware of multiple companies seeking to purchase firms in the engagement field. Contact Michael Mazer in confidence if your company is potentially for sale at 303-320-3777.
Enterprise Engagement Benchmark Tools:
The Enterprise Engagement Alliance offers three tools to help organizations profit from Engagement.
Click here
to access the tools.
• ROI of Engagement Calculator. Use this tool to determine the potential return-on-investment of an engagement strategy.
• EE Benchmark Indicator. Confidentially benchmark your organization's Enterprise Engagement practices against organizations and best practices.
• Compare Your Company's Level of Engagement. Quickly compare your organization's level of engagement to those of others based on the same criteria as the EEA's Engaged Company Stock Index.
• Gauge Your Personal Level of Engagement. This survey, donated by Horsepower, enables individuals to gauge their own personal levels of engagement.
For more information, contact Bruce Bolger at Bolger@TheEEA.org, 914-591-7600, ext. 230.