Guest Insight: Sales and Marketing Alignment Critical to Incentive Success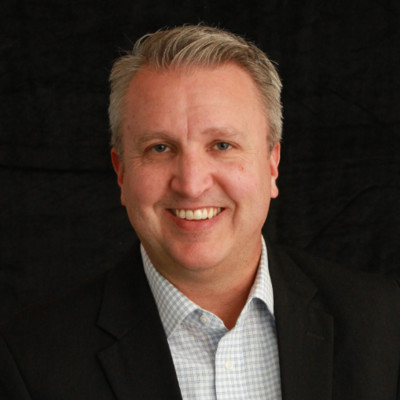 One of the most frequent causes for incentive program failure is lack of coordination between sales and marketing, especially in sales and channel programs. Here's how to address this critical issue.

By Lincoln Smith, Chief Strategy Officer, HMI Performance Incentives

The Risks of Division
A Collaborative Effort Works Best
The Importance of Communication

One of the most common reasons for poor incentive program performance
is a failure to have all the internal

stakeholders on the same page, starting with a consensus concerning the rules, goals, and strategies. This can be especially true in channel programs, in which companies must engage not only the distribution partners' management but also their sales and customer service employees.

You know your program will face challenges if:

Sales and marketing pursue the same goal with a different strategy
Each department fails to communicate well
Each team has a different goal or has divergent ideas about the goal
Sales and marketing don't usually align on strategies
The "right" players aren't involved in early decision making
Input from either side isn't received before program roll-out
There's competition for resources.
If any of these conditions apply to your organization's program, chances are your business will end up wasting time and resources.

The Risks of Division

Let's say your company is about to kick off an incentive program planned by your marketing team to engage your organization's channel partners. Marketing is often involved with putting together and distributing all the program's core components: rules structures incorporating your value proposition; user experience; positioning, and all copywriting and related marketing materials.

On the other hand, for these elements to work effectively, you need input from sales. It's your sales team who really knows the pulse of the market and the distributors: they most often communicate directly with the program's target audience. If your sales organization doesn't understand the benefits of the program, doesn't feel like it has had an adequate voice in program design, or doesn't have a solid grasp of the program's rule structure and the reasoning behind it, the program is unlikely to achieve its full potential.

So, if you're on the marketing side, it's important to determine that:
The sales organization is fully vested in the program
They have the program management tools to address customer needs and engage their interest and participation
They see the program as a tool to drive sales and not "just another promotion from marketing"
Perhaps the opposite is true, and your programs are driven by the sales department. Your sales team is likely excited about the program and knows the structure from top to bottom because they planned the strategy. That's great—but how will the sales team spread the word? Even the best-designed program will fail if not marketed effectively.

A Collaborative Effort Works Best

For maximum results, you need both sales and marketing on board from start through implementation to finish working collaboratively because tying all the elements together is critical to optimal performance.

In the case of dealer and distributor programs, in which reseller customer buy-in is critical, your salespeople need to have the support to evangelize your program, communicate the value proposition to the customers, and educate them on the program as appropriate. It shouldn't be hard to engage dealers when the program is properly designed. Salespeople want to sell product, and a well-designed incentive program should simply be another sales strategy in their toolkit.

For instance, in dealer programs, when it comes to choosing program participants, get your sales leadership involved in the early planning stages. They know their customers best, and they'll be able to offer valuable input on who should be invited to participate and how to set individual goals for each dealership or salesperson. Especially in the case of dealer programs:
Create goals and objectives for the sales organization as well as the dealers/distributors, with their involvement as much as possible,
Offer rewards or bonuses to your sales team based on the program's ongoing KPIs (key performance indicators) to establish clear stakes for them beyond typical sales quotas, such as recruiting more dealers.
Entice them with opportunities to earn rewards just like dealer participants can – including an opportunity on a spot on a group incentive travel trip, for example, or points to be redeemed in a rewards catalog for getting distributors more engaged.
Whatever your strategy, make sure you address the issue of what's in it for the sales team.


The Importance of Communication

When it comes to communication, alignment between sales and marketing becomes make-or-break for an incentive program, especially when involving channel partners. The marketing team needs to create materials to draw in dealer participants, but it also needs to put together pieces that will circulate internally.

That means going beyond creating a slide deck and calling it a day. Some important additional tools include:
A creative roll-out strategy that stimulates curiosity and interest
Sales sheets for both internal and external use highlighting key unique selling propositions and benefits
Webinars for both internal and external audiences, led by your sales team
Internal email campaigns with reminders and tips for the sales team on the program, progress, or other helpful information
Ongoing data insights provided to the sales team highlighting how their customers are performance and engaging with the program
It also means making data insights readily available to the sales organization. The more your salespeople can understand how their customers are performing and engaging in the program, the better. These can include:

Which of those dealers who were invited to participate have enrolled?
Who are highly engaged in terms of interacting with the program and earning points?
How are they performing in comparison with goals?
What rewards and program benefits have they taken advantage of?
As the branch of your business in most direct contact with your customers, your sales organization will be able to communicate far more effectively if they have the right marketing support and relevant insights.

For the best results, marketing and sales leaders need to have a seat at the table from the very beginning so that their teams effectively design, communicate, and implement strategies with a focus on common goals.



---
Education, Certifications, and Information to Activate
Brand Media and Enterprise Engagement

A complete learning, certification, and information program and a course syllabus for educators.
Resources:
The
Brand Media Coalition
, the only guide to the story-telling power of brands and where to source them for business, event, promotional gifting, and rewards and recognition.
Enterprise Engagement Solution Provider Directory
. The only directory of engagement solution providers covering all types of agencies and tactics as well as insights on how to select them.
Communities:
The
Enterprise Engagement Alliance and Advocate
and the
Brand Media Coalition
free resource centers offering access to the latest research, news, and case studies; discounts, promotions, referrals, and commissions, when appropriate to third-party solution providers from participating coalition solution provider members.
Training and Certification
Enterprise Engagement Alliance Education:
Certified Engagement Practitioner; Advanced Engaged Practitioner, and Certified Engagement Solution Provider learning and certification programs on how to implement Stakeholder Capitalism principles at the tactical level.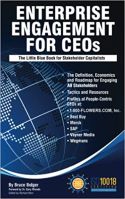 In Print:
This is the definitive implementation guide to Stakeholder Capitalism, written specifically to provide CEOs and their leadership teams a concise overview of the framework, economics, and implementation process of a CEO-led strategic and systematic approach to achieving success through people. (123 pages, $15.99)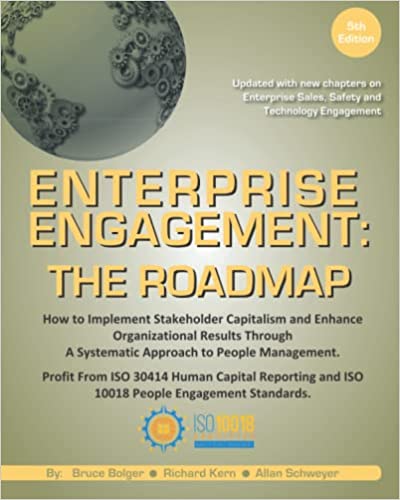 The first and most comprehensive book on Enterprise Engagement and the new ISO 9001 and ISO 10018 quality people management standards. Includes 36 chapters detailing how to better integrate and align engagement efforts across the enterprise. (312 pages, $36.)
Online:
10-minute short course: click here
for a 10-minute introduction to Enterprise Engagement and ISO standards from the Coggno.com learning platform.
Services:
• The Engagement Agency at EngagementAgency.net,
offering: complete support services for employers, solution providers, and technology firms seeking to profit from formal engagement practices for themselves or their clients, including Brand and Capability audits for solution providers to make sure their products and services are up to date.
• C-Suite Advisory Service
—Education of boards, investors, and C-suite executives on the economics, framework, and implementation processes of Enterprise Engagement.
• Speakers Bureau
—Select the right speaker on any aspect of engagement for your next event.
• Mergers and Acquisitions. The Engagement Agency's Mergers and Acquisition group is aware of multiple companies seeking to purchase firms in the engagement field. Contact Michael Mazer in confidence if your company is potentially for sale at 303-320-3777.
Enterprise Engagement Benchmark Tools:
The Enterprise Engagement Alliance offers three tools to help organizations profit from Engagement.
Click here
to access the tools.
• ROI of Engagement Calculator. Use this tool to determine the potential return-on-investment of an engagement strategy.
• EE Benchmark Indicator. Confidentially benchmark your organization's Enterprise Engagement practices against organizations and best practices.
• Compare Your Company's Level of Engagement. Quickly compare your organization's level of engagement to those of others based on the same criteria as the EEA's Engaged Company Stock Index.
• Gauge Your Personal Level of Engagement. This survey, donated by Horsepower, enables individuals to gauge their own personal levels of engagement.
For more information, contact Bruce Bolger at Bolger@TheEEA.org, 914-591-7600, ext. 230.