IRF Generational Study on Rewards: Are We Truly Listening to What People Want?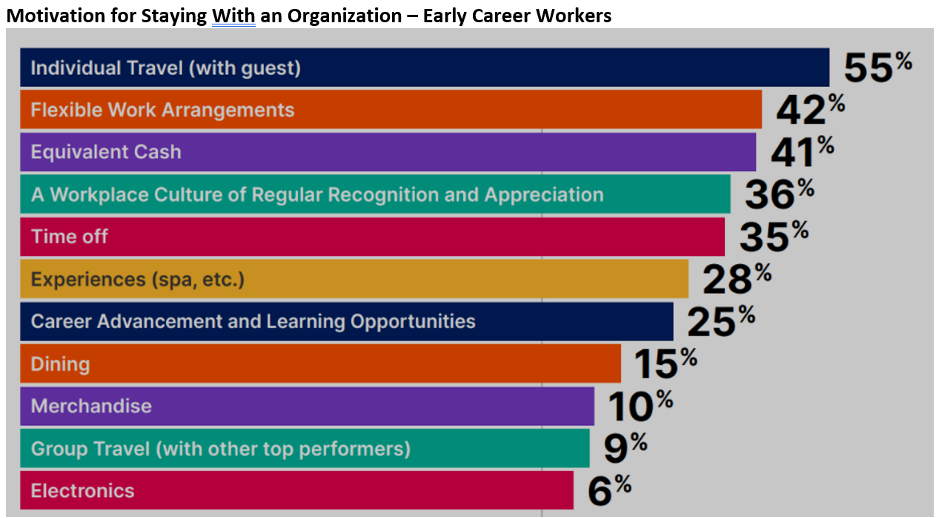 A survey of over 1,000 Americans in different stages of their careers finds that the more things change, the more they stay they same, with only minor variations between age groups when it comes to reward preferences. A main conclusion may be that many organizations still are not developing rewards programs that truly resonate with their stakeholders.

What Stands Out in the Study
Summary of Other Key Findings

Click here for links to RRN Preferred Solution Providers.

No matter what their ages, people of all age groups prefer tangible rewards whose value they can clearly determine, as well as experiences. Most people across all age groups would prefer to receive $500 in cash than a $750 donation to a charity in their name. Individual travel is particularly motivating to young people, and people at all career stages prefer travel with lots of free time. These are just some of the insights from the recent Incentive Research Foundation study, "Generational Expectations of Incentives" by Allan Schweyer, Incentive Research Foundation Co-Research Advisor; Adam Presslee, PhD, University of Waterloo, and Yashar Atefi, PhD, University of Denver.

The results are based on two surveys. Our primary survey includes responses from 939 North American workers—23 of them early career; 499, mid-career; and 205, late career. More than 95% of respondents are employed full-time and the average respondent has more than 10 years of work experience. Respondents represent a variety of industries and over 25 occupational categories including administrative, professional, and blue collar. Fifty percent of respondents earn between $25,000-$75,000 annually and more than 10% earn $100,000 or more. Ninety-one percent of respondents have received at least one cash or non-cash tangible reward at work in their career, including cash bonuses, gift cards, merchandise, and time off, according to the authors.

The secondary survey reportedly is of 69 early-career workers currently enrolled as students at two North American universities. Almost all respondents had at least one year of full-time work experience. Respondents' work experience represents a variety of industries, but nearly 75% worked in either sales or accounting.

Early career is defined as 18-30 years old in 2023; mid-career, 31-50 years old in 2023; late career, 51+ years old in 2023.

What Stands Out in the Study

The lower the employee's income, the more likely they are to select PTO (paid time off) over cash.
Preference for travel rewards skews toward earlier stage workers and higher earners.
When cash and gift cards are removed as reward options, travel rewards – individual travel in particular – are the most preferred; when group and individual travel are combined, these rewards are more attractive than all others – even time off.
No matter their age group, workers express either a strong preference for quiet recognition (one-to-one with their manager), or a big show in front of the entire company. No clear preferences appear across age groups.
Across all age groups, 70% of survey respondents would prefer to receive $50 in their bank account (with no mention of why) than a sincere note of thanks (with no money attached) from a manager or peer.
80% of respondents prefer a sincere thank you from an immediate manager over a peer, but even where the bank account deposit is reduced to $25, two-thirds prefer the cash to a handwritten and delivered letter of appreciation from their boss.
Other notable results include the strong preference respondents had for receiving sincere recognition from an immediate manager (80%) versus a fellow team member or peer (20%). And more than two-thirds prefer working in a workplace culture of regular recognition versus one where there are more career advancement and learning opportunities.
What would most motivate people to stay with the organization and perform their best? Individual travel with a partner/friend was by far preferred (55%) compared to group travel with colleagues and other top performing individuals in the office (8%). Respondents continued to value cash (41%), and somewhat related to time off, value a flexible or hybrid work arrangement (42%).

An individual trip to an exotic place with a friend/significant other (73%) is favored over a group trip to an exotic place with a friend/significant other and other high company performers (27%).
A relaxing beach-oriented trip (64%) is preferred in this group over an activity-oriented trip (e.g., golfing, hiking, cycling,) (36%); a relaxing beach-oriented trip (74%) is the choice over a socially oriented trip (e.g., parties, events), 26%; an activity-oriented trip (golfing, hiking, cycling) (55%) over a socially oriented trip (parties, events), 45%.
Consistent with the previous results, a calm trip (74%) is preferred to a busy trip, (26%.

Most preferred components of the travel reward lots of unscheduled time (25%), food (21%), and sightseeing (19%). Preferred locations are Western Europe (33%), Hawaii (29%), and South Asia (23%), not much different than previous surveys.

Summary of Other Key Findings
When asked what form of a reward worth $500 they would most prefer, respondents of all age groups and income levels chose gift cards and cash.
Gift cards for fun and enjoyable purchases followed by those for everyday purchases were in the top three reward preferences for most respondents; combined, they are more preferred than cash.
When cash and gift cards are not options, travel rewards rank No. 1, even above time off and flexible work across all age groups.
Late-stage career workers (51+) express a much greater preference for nearby domestic reward travel locations than those requiring flights.
Younger respondents (18-30) and those with higher incomes generally prefer a group reward travel; those who have experienced incentive group travel are significantly more likely to prefer it as a reward choice.
Paid time off as a reward is far more important to early-stage workers than to mid- and late- career workers. The lower the employee's income, the more likely they are to select PTO over cash.
Younger workers (18-30) are significantly more drawn to merchandise (electronics, etc.) and experiences (concerts, etc.) than are mid-career and late-career stage workers.
---
Profit From the "S" of Environmental, Social, Governance (ESG)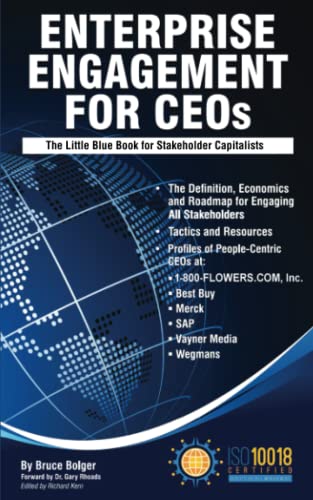 Through education, media, business development, advisory services, and outreach, the Enterprise Engagement Alliance supports boards, business analysts, the C-suite, management in finance, marketing, sales, human resources and operations, etc., educators, students and engagement solution providers seeking a competitive advantage by implementing a strategic and systematic approach to stakeholder engagement across the enterprise. Click here for details on all EEA and RRN media services.

1. Professional Education on Stakeholder Management and Total Rewards
Become part of the EEA as an individual, corporation, or solution provider to gain access to valuable learning, thought leadership, and marketing resources.
The only education and certification program focusing on Stakeholder Engagement and Human Capital metrics and reporting, featuring seven members-only training videos that provide preparation for certification in Enterprise Engagement.
EEA books: Paid EEA participants receive Enterprise Engagement for CEOs: The Little Blue Book for People-Centric Capitalists, a quick implementation guide for CEOs; Enterprise Engagement: The Roadmap 5th Edition implementation guide; a comprehensive textbook for practitioners, academics, and students, plus four books on theory and implementation from leaders in Stakeholder Management, Finance, Human Capital Management, and Culture.
2. Media 3. Fully Integrated Business Development for Engagement and Total Rewards
Strategic Business Development for Stakeholder Management and Total Rewards solution providers, including Integrated blog, social media, and e-newsletter campaigns managed by content marketing experts.

4. Advisory Services for Organizations
Stakeholder Management Business Plans; Human Capital Management, Metrics, and Reporting for organizations, including ISO human capital certifications, and services for solution providers.

5. Outreach in the US and Around the World on Stakeholder Management and Total Rewards
The EEA promotes a strategic approach to people management and total rewards through its e-newsletters, web sites, and social media reaching 20,000 professionals a month and through other activities, such as: