IRR Industry Veteran Sees Emergence of 3 Trends: Getaway Experiences, "Group Incentive Travel," Nearby Retreats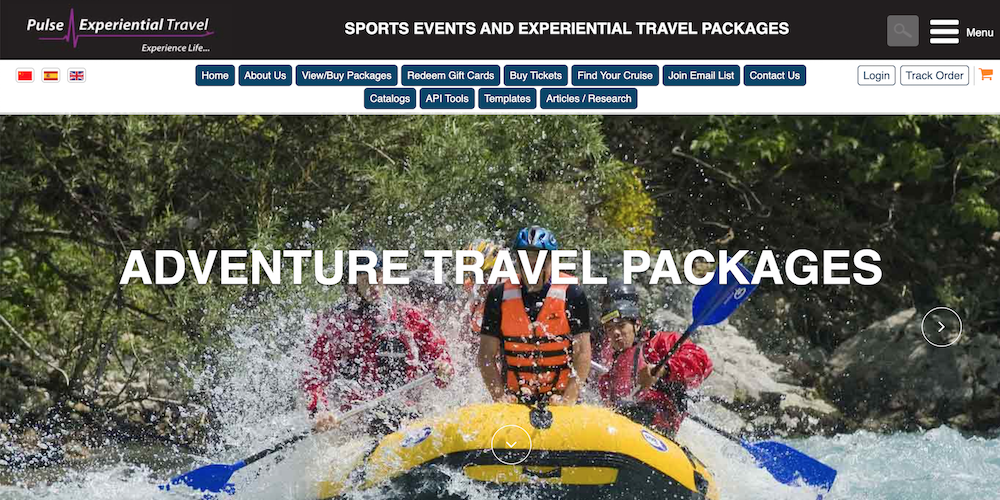 An incentive travel veteran with over 35 years of experience in the field has not only benefited from the growth of individual travel and small group experiences but sees emerging three new categories he calls Getaway Experiences, Group Individual Travel, and getaway retreat centers.

Marc Matthews has witnessed and benefited from a profound change in travelers since he launched his individual travel experience program in 1988. See RRN: Pulse Experiential Travel Leads the Way in Promotion Reward Experiences. Obviously, he saw the trend of people seeking out more experiences, luxury, and event experiences; what he never expected, he says, was to see individual travel emerge as a dominant industry category. According to a recent white paper published by the Incentive Research Foundation and a recent Incentive Research Foundation study, experiences are a popular travel reward of choice.

Now, Matthews says, the focus on individual experiences is gaining traction in the group incentive travel marketing in three ways: 1) the desire to provide people going to business meetings or conferences the opportunity to extend the trips with special, authentic experiences enabling them to have more intimate travel experiences; 2) the desire to add group incentive travel amenities to the individual travel experiences they are already using, and 3) the ability for any size organization to establish what he calls getaway retreat centers where teams and individuals can get away throughout the year for meetings or relaxation.

The growth is so significant, he says he's happy his daughter Georgia Matthews has stepped in to help his company scale its customer service, technology, and fulfillment processes to meet demand while maintaining the personal service and support required to maximize the reward experience, he underlines.

This RRN interview with Matthews about industry trends was conducted before the publication by the Incentive Research Foundation white paper on incentive travel that emphasizes the now dominant role of experiential travel and the need for a more expertise about emerging destination and a seamless planning experience.

Individual getaway experiences. Matthews says he's seeing an increased demand for his company's getaway packages. "More people are looking for short getaway experiences enabling people to have a personal connection with an off-the-beaten track destination that has a rich story, great walking options, and cultural, art, and historical sites, or legends and mysteries to learn about."

Group Incentive Travel--individual travel with group travel amenities. With many companies remaining cautious about group travel and/or seeking to have a quick back-up in case of a Covid flare-up, Matthews says he is seeing more demand for his company's certificate program that includes almost all the amenities that distinguish group incentive travel from tourism: personally arranged air travel, transfers, hotels and unique dining and other local tour experiences not easily planned by individual travelers, and meaningful welcome gifts and other personal expressions of recognition at the venue.

Getaway retreat centers. He describes these as "almost like a company vacation home, based on an ongoing relationship with regional getaway destination hotels, restaurants and other experiences." These can be used, he says, for ongoing collaboration and/or for individual employee getaways or gifts that become an extension of the organization's culture. With so many people working at home at least two or three days a week, and more companies winding down their real estate footprints, some organizations Matthews believes are seeing the benefit of creating a retreat center for regular use throughout the year. It's almost like having a company vacation home that can also be used for business. It's a meaningful amenity easily paid for in the office space savings many companies will be achieving as fewer people come to the office five days a week."

For More Information
Marc H. Matthews
PulseExperientialtravel.com
800-700-1357
MMatthews@PulseExperiential.com

For the latest news delivered by via email, subscribe here.

---
Education, Certifications, and Information to Activate
Brand Media and Enterprise Engagement

A complete learning, certification, and information program and a course syllabus for educators.
Resources:
The
Brand Media Coalition
, the only guide to the story-telling power of brands and where to source them for business, event, promotional gifting, and rewards and recognition.
Enterprise Engagement Solution Provider Directory
. The only directory of engagement solution providers covering all types of agencies and tactics as well as insights on how to select them.
Communities:
The
Enterprise Engagement Alliance and Advocate
and the
Brand Media Coalition
free resource centers offering access to the latest research, news, and case studies; discounts, promotions, referrals, and commissions, when appropriate to third-party solution providers from participating coalition solution provider members.
Training and Certification
Enterprise Engagement Alliance Education:
Certified Engagement Practitioner; Advanced Engaged Practitioner, and Certified Engagement Solution Provider learning and certification programs on how to implement Stakeholder Capitalism principles at the tactical level.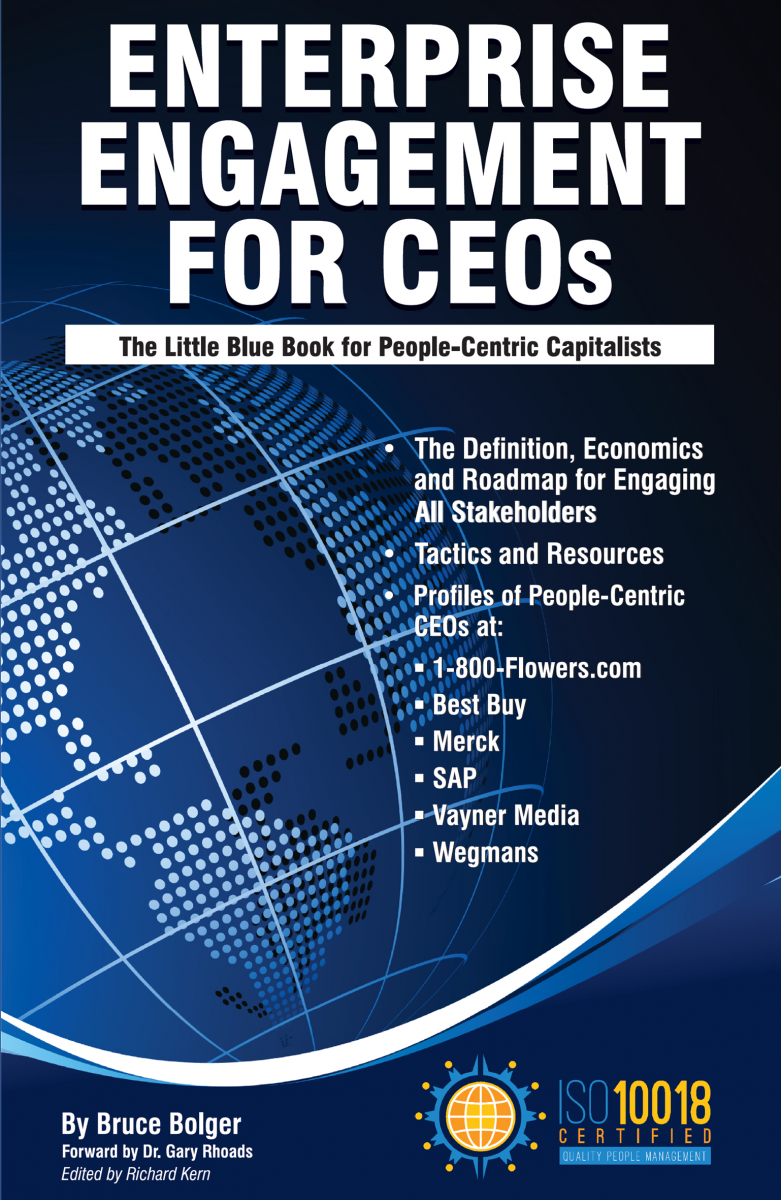 In Print:
This is the definitive implementation guide to Stakeholder Capitalism, written specifically to provide CEOs and their leadership teams a concise overview of the framework, economics, and implementation process of a CEO-led strategic and systematic approach to achieving success through people. (123 pages, $15.99)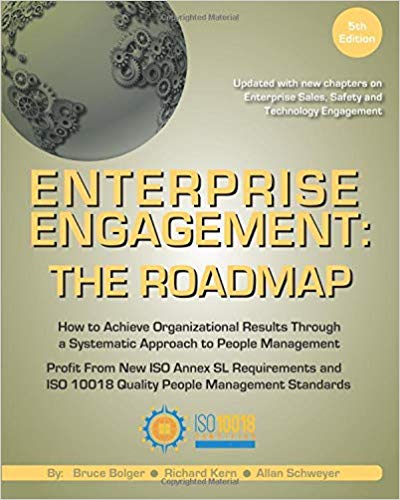 The first and most comprehensive book on Enterprise Engagement and the new ISO 9001 and ISO 10018 quality people management standards. Includes 36 chapters detailing how to better integrate and align engagement efforts across the enterprise. (312 pages, $36.)
Online:
10-minute short course: click here
for a 10-minute introduction to Enterprise Engagement and ISO standards from the Coggno.com learning platform.
Services:
• The Engagement Agency at EngagementAgency.net,
offering: complete support services for employers, solution providers, and technology firms seeking to profit from formal engagement practices for themselves or their clients, including Brand and Capability audits for solution providers to make sure their products and services are up to date.
• C-Suite Advisory Service
—Education of boards, investors, and C-suite executives on the economics, framework, and implementation processes of Enterprise Engagement.
• Speakers Bureau
—Select the right speaker on any aspect of engagement for your next event.
• Mergers and Acquisitions. The Engagement Agency's Mergers and Acquisition group is aware of multiple companies seeking to purchase firms in the engagement field. Contact Michael Mazer in confidence if your company is potentially for sale at 303-320-3777.
Enterprise Engagement Benchmark Tools:
The Enterprise Engagement Alliance offers three tools to help organizations profit from Engagement.
Click here
to access the tools.
• ROI of Engagement Calculator. Use this tool to determine the potential return-on-investment of an engagement strategy.
• EE Benchmark Indicator. Confidentially benchmark your organization's Enterprise Engagement practices against organizations and best practices.
• Compare Your Company's Level of Engagement. Quickly compare your organization's level of engagement to those of others based on the same criteria as the EEA's Engaged Company Stock Index.
• Gauge Your Personal Level of Engagement. This survey, donated by Horsepower, enables individuals to gauge their own personal levels of engagement.
For more information, contact Bruce Bolger at Bolger@TheEEA.org, 914-591-7600, ext. 230.