IRR News: Boomerangme Target Agencies, Vista Takes EngageSmart Private...Reese's Sweeps Blooper...More Personalization
Here's a periodic RRN roundup of news on all aspects of the incentive rewards and recognition business.

Boomerangme cards targets ad agencies...Vista Equity Partners buys Engagesmart loyalty...Reese's sweepstakes reportedly runs afoul of rules...Expect huge increase in personalization.

Boomerangeme Cards Targets Ad Agencies
EngageSmart Goes Private
Reese's Sweepstakes Flaw Offers Reminder for All Marketers
When it Comes to Personalization, We Haven't Seen Anything Yet

Boomerangeme Cards Targets Ad Agencies

BoomerangMe offers a white-label SaaS loyalty platform specifically to advertising agencies to "enhance their services, reduce churn, and boost revenue." The company says it has "helped over 500 agencies double their return rates and increase revenue by 30% or more using our digital loyalty cards."

The company claims it's digital loyalty card platform is "designed for advertising services teams, helping you increase your clients' lifetime value (LTV) while also building long-term relationships. We've helped over 500 agencies gain lifetime clients, double their return rates, and increase revenue by 30% or more."

This may be the only loyalty tech platform RRN knows of that targets agencies.

EngageSmart Goes Private

EngageSmart, Inc., a provider of vertically tailored customer engagement software and integrated payments solutions, announced that it will acquired by Vista Equity Partners, a global investment firm focused exclusively on enterprise software, data and technology-enabled businesses. It was reportedly an all cash deal of $4 billion.

"EngageSmart is a demonstrated leader in delivering mission-critical solutions for modern businesses and simplifying customer and client engagement for over a hundred thousand organizations," says Michael Fosnaugh, Co-Head of Vista's Flagship Fund and Senior Managing Director. "We look forward to working with EngageSmart as they continue to innovate, scale and empower organizations to better serve their customers."

Reese's Sweepstakes Flaw Offers Reminder for All Marketers

Remember: state and federal lottery laws forbid companies from running sweepstakes or contests that require a purchase. Reese reportedly ran afoul of those laws by advertising on packs of peanut butter that "You could win $25,000" and, in smaller print, "See details inside." Only after opening the package could consumers find in small print that no purchase was necessary.

When it Comes to Personalization, We Haven't Seen Anything Yet

Artificial intelligence promises to take personalization to an entirely new level by helping organizations better time critical points of decision or anniversaries of past experiences to increasingly target their offers. As with any other powerful tool, humans are needed to add the emotional intelligence even the best AI can failure spectacularly at. AI isn't required to thank people on their birthdays but the offer demonstrates where marketing will go once AI is put to use to better identify the paths of our critical buying decisions without being intrusive.

Subscribe to RRN's weekly e-newsletter.

---
Profit From the "S" of Environmental, Social, Governance (ESG)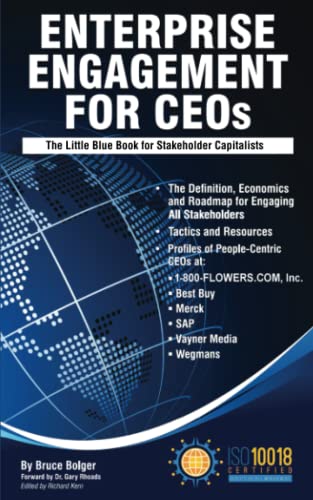 Through education, media, business development, advisory services, and outreach, the
Enterprise Engagement Alliance
supports boards, business analysts, the C-suite, management in finance, marketing, sales, human resources and operations, etc., educators, students and engagement solution providers seeking a competitive advantage by implementing a strategic and systematic approach to stakeholder engagement across the enterprise.
Click here
for details on all EEA and RRN media services.
1. Professional Education on Stakeholder Management and Total Rewards
Become part of the EEA as an individual, corporation, or solution provider to gain access to valuable learning, thought leadership, and marketing resources.
The only education and certification program focusing on Stakeholder Engagement and Human Capital metrics and reporting, featuring seven members-only training videos that provide preparation for certification in Enterprise Engagement.
EEA books: Paid EEA participants receive Enterprise Engagement for CEOs: The Little Blue Book for People-Centric Capitalists, a quick implementation guide for CEOs; Enterprise Engagement: The Roadmap 5th Edition implementation guide; a comprehensive textbook for practitioners, academics, and students, plus four books on theory and implementation from leaders in Stakeholder Management, Finance, Human Capital Management, and Culture.
2. Media
3. Fully Integrated Business Development for Engagement and Total Rewards
Strategic
Business Development
for
Stakeholder Management
and
Total Rewards
solution providers, including Integrated blog, social media, and e-newsletter campaigns managed by content marketing experts.
4. Advisory Services for Organizations
Stakeholder Management Business Plans
;
Human Capital Management, Metrics, and Reporting
for organizations, including ISO human capital certifications, and services for solution providers.
5. Outreach in the US and Around the World on Stakeholder Management and Total Rewards
The EEA promotes a strategic approach to people management and total rewards through its e-newsletters, web sites, and social media reaching 20,000 professionals a month and through other activities, such as: