Investment Action Continues in Employee Engagement

Roll-ups, acquisitions, and investments remain full steam ahead in the employee engagement space.

Private-equity backed Reward Gateway buys employee recognition firm Fond; recognition firm Bonusly

raises $18.6 million, and human resources advisory firm Mercer buys five-year-old digital HR firm Leapgen.



Reward Gateway, a global HR technology and employee engagement company, has acquired Fond, a US provider of employee recognition, rewards and perks founded in 2012 by CEO Taro Fukuyama. This follows Abry Partners' and Castik Capital's recent acquisitions of Reward Gateway, Xexec, a benefits app, and MoveSpring, a fitness tracker.

Nick Burns, CEO of Reward Gateway says, "With continued investment and support from Abry Partners and Castik Capital, we are thrilled to welcome Fond to Reward Gateway. We remain laser focused on advancing the employee experiences that drive engagement, wellbeing, and performance."

Fond describes itself as a "rewards and recognition platform that helps companies build a happier workforce with an easy-to-use, simplified solution. Our software offers a customizable employee recognition program with monetary and non-monetary rewards that's fully scalable for your organization. Enterprise customers include Salesforce, Weight Watchers, and MAPCO."

Says Fukuyama, "Fond has been on an incredible journey since 2012 when we first started helping companies build places where employees love to work. Joining Reward Gateway and Xexec under the Abry Partners and Castik Capital umbrella is an incredible opportunity to further advance our mission on a global scale."

In other news, Bonusly, a "recognition and rewards platform that connects teams and enriches company culture," has received $18.9 million in Series B funding led by Ankona Capital. Earlier investors FirstMark Capital, Access Venture Partners, and Next Frontier Capital also participated.

Bonusly, which says it is ranked by G2, a software review firm, as No. 1 in Employee Recognition and No. 3 in Employee Engagement, is reportedly used by top-tier companies including Chobani, ZipRecruiter, Pender Veterinary, and SDMI. Bonusly says its platform creates a culture of recognition "in which employees receive an average of two meaningful, timely, detailed recognitions from peers and managers every week. After deploying Bonusly, more than nine in ten (93%) customers see improved employee engagement," it says.

The company says its "recognition platform captures and analyzes a treasure trove of real-time data on how organizations really work, communicate and connect, informing HR teams and managers so they can make powerful behavior change throughout an employee population. Bonusly's proprietary graph database enables management to gain a keen understanding of how their company actually functions," the company claims. "With this information, HR and managers can better help team members continuously improve, foster collaboration and belonging, and assess behavior changes to predict turnover."

In yet more M&A news, five-year-old Leapgen was acquired by Mercer, a worldwide human resources advisory firm. Leapgen says it provides consulting and on-demand talent for digital HR and people strategy, HR/workforce solutions deployment, and HR/workforce sustainment and value attainment.

Mercer says the acquisition will strengthen its workforce and human resources transformation solutions practice.

The company says that "with 63% of companies in a recent Mercer survey planning to spend more on HR technology in 2023, it's even more important to ensure the correct mix of technology to realize ROI and business goals."

Subscribe to RRN's weekly e-newsletter.

---
Profit From the "S" of Environmental, Social, Governance (ESG)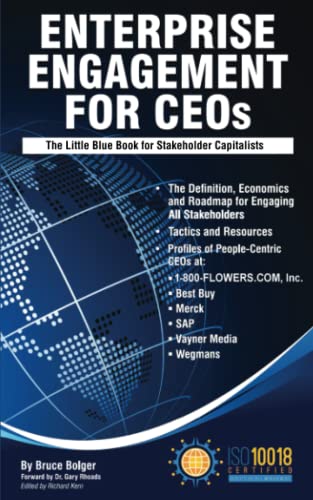 Through education, media, business development, advisory services, and outreach, the
Enterprise Engagement Alliance
supports boards, business analysts, the C-suite, management in finance, marketing, sales, human resources and operations, etc., educators, students and engagement solution providers seeking a competitive advantage by implementing a strategic and systematic approach to stakeholder engagement across the enterprise.
Click here
for details on all EEA and RRN media services.
1. Professional Education on Stakeholder Management and Total Rewards
Become part of the EEA as an individual, corporation, or solution provider to gain access to valuable learning, thought leadership, and marketing resources.
The only education and certification program focusing on Stakeholder Engagement and Human Capital metrics and reporting, featuring seven members-only training videos that provide preparation for certification in Enterprise Engagement.
EEA books: Paid EEA participants receive Enterprise Engagement for CEOs: The Little Blue Book for People-Centric Capitalists, a quick implementation guide for CEOs; Enterprise Engagement: The Roadmap 5th Edition implementation guide; a comprehensive textbook for practitioners, academics, and students, plus four books on theory and implementation from leaders in Stakeholder Management, Finance, Human Capital Management, and Culture.
2. Media
3. Fully Integrated Business Development for Engagement and Total Rewards
Strategic
Business Development
for
Stakeholder Management
and
Total Rewards
solution providers, including Integrated blog, social media, and e-newsletter campaigns managed by content marketing experts.
4. Advisory Services for Organizations
Stakeholder Management Business Plans
;
Human Capital Management, Metrics, and Reporting
for organizations, including ISO human capital certifications, and services for solution providers.
5. Outreach in the US and Around the World on Stakeholder Management and Total Rewards
The EEA promotes a strategic approach to people management and total rewards through its e-newsletters, web sites, and social media reaching 20,000 professionals a month and through other activities, such as: