Lorandus CEO: Face to Face Goes 24/7, 365
No one could be happier with the return of travel than Lorandus Founder and Chief Inspiration Officer Stephen Cook, who, with over 30 years in the business, thought he had saw it all. While his company's clients in his home country of Canada remain more cautious to travel, the US market is actively opening, and he expects a return to growth in his traditional motivational events business. Nonetheless, Cook believes the pandemic created unique opportunities for multi-media engagement that go beyond the live event to help clients engage their key audiences year-round.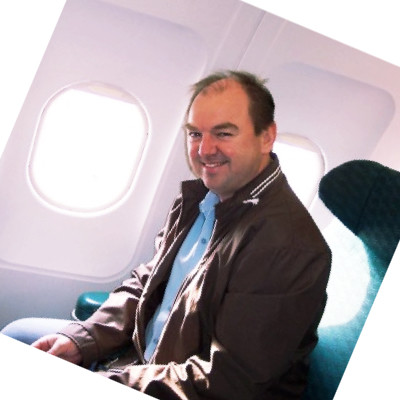 "With so many positive signs that travel will come roaring back, you might think I'd just saddle up for the ride," says Stephen Cook, Founder and Chief Inspiration Officer of Lorandus, a motivational event company based in Cambridge, Ont. He is also a board member of the Incentive Research Foundation. "While we're happy to be busy and traveling again, the pandemic taught us the opportunity to help our clients year-round through the use of virtual events and technology that make more sense than ever in terms of providing clients a complete solution."
When the pandemic hit, Cook says that Lorandus quickly focused on helping clients shift from traditional face to face to virtual engagement solutions. Because of his company's agile business model, he was able to generate new revenues to help organizations hold virtual events, which, while not as impressive as events in terms of generating top line revenue, command reasonable and logical margins because clients understand the creative and production expertise involved that not every company can offer."
He says the experience with virtual events provided his company and clients with real-life understanding of how to mesh virtual with live events; what the future looks like, and where customers are going. "The big lessons to me: virtual events make perfect sense as part of an overall communications engagement strategy. They help support live events rather than replace them. They can engage a far broader audience with analytics that go beyond what's possible at live events, and they require serious production expertise to achieve the full impact."
A 365-Day-a-Year Relationship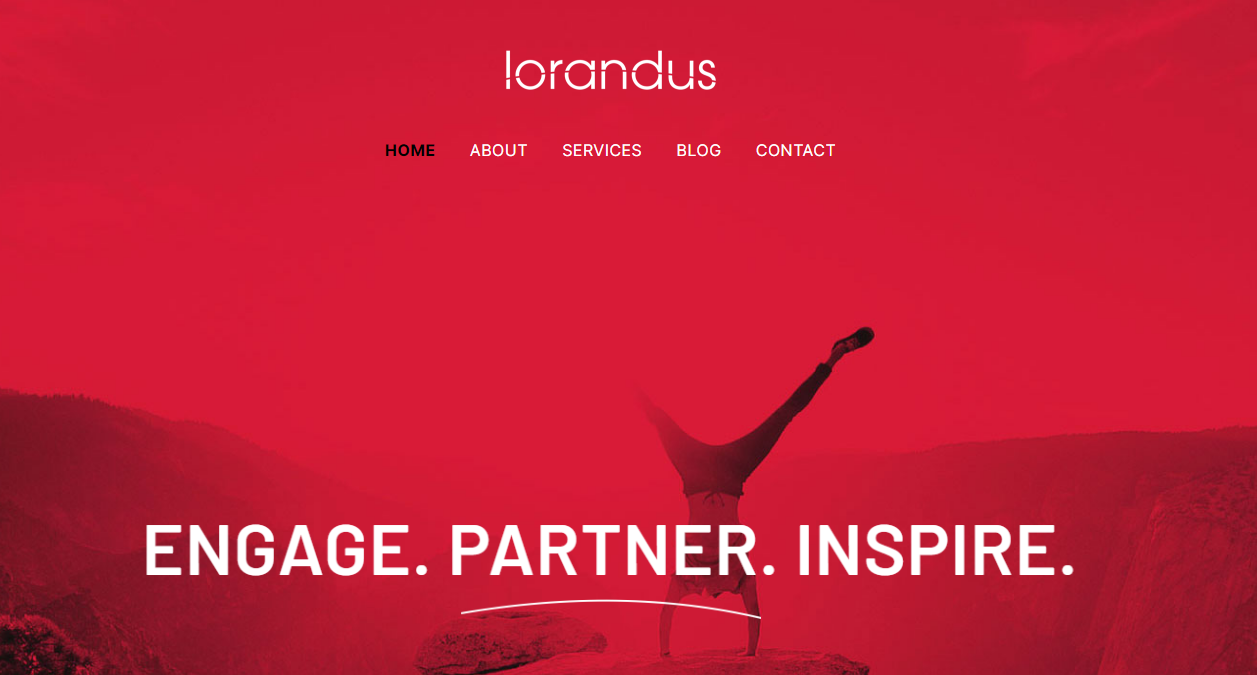 Cook sees Lorandus evolving into a live, virtual, and digital agency providing his clients in the US and Canada with a 24/7, 365-day-a-year connection with attendees. "With so many events, people get together, have a great time, and then go away. We believe the opportunity is not only to keep them connected throughout the year, but to expand the audience to people who might not be able to attend the trip but who still wish to feel part of the team. The events industry has spoken about making this 24/7 connection for decades; the pandemic has forced the industry to take action."
Cook says his company is looking at how to help clients integrate a seamless 365-day-a-year technology solution into his company's live and virtual offers so that content can be used not only at events but year-round.
While attendance at some events may go down even as the pandemic subsides, Cook believes that hybrid experiences can help extend the traditional reach of meetings to many people who might not in the past have attended. "We can use events to engage more people than ever before, even if not everyone is together in the same place." He believes that "one of the biggest lessons over this last year is that story-telling and production values really count. The idea of having a few talking heads on the screen just doesn't cut it for a half-day or full-day meeting. Effective virtual events should have a look and feel much like what we're accustomed to seeing on television if organizations wish to put their best face forward."
A Greater Focus on Experiences
Ironically, Cook expects event organizers will demand much more creativity and interactivity in their live events as well. "People have become accustomed to getting great content in podcasts and YouTube and other online media channels. The typical keynote and panel discussion format just won't cut it anymore. People want to travel to meet new people, build relationships, collaborate, interact, and share meaningful experiences." Incentive travel and motivational events, he believes, should focus on what people simply cannot do at their homes or offices—interact in a productive way with people they can learn from or do business with."
The pandemic, Cook believes, will have a lasting impact on the events business. "I of course wish it never happened, but we learned a lot about how we can enhance our services to clients in a way that can't be easily commoditized. In the old days, companies might be tempted to hire a local travel agent to handle an event: now, hiring a company without serious expertise poses a significant risk."
For More Information
Stephen Cook
416 617 0729
---
Education, Certifications, and Information to Activate
Brand Media and Enterprise Engagement

A complete learning, certification, and information program and a course syllabus for educators.
Resources:
The
Brand Media Coalition
, the only guide to the story-telling power of brands and where to source them for business, event, promotional gifting, and rewards and recognition.
Enterprise Engagement Solution Provider Directory
. The only directory of engagement solution providers covering all types of agencies and tactics as well as insights on how to select them.
Communities:
The
Enterprise Engagement Alliance and Advocate
and the
Brand Media Coalition
free resource centers offering access to the latest research, news, and case studies; discounts, promotions, referrals, and commissions, when appropriate to third-party solution providers from participating coalition solution provider members.
Training and Certification
Enterprise Engagement Alliance Education:
Certified Engagement Practitioner; Advanced Engaged Practitioner, and Certified Engagement Solution Provider learning and certification programs on how to implement Stakeholder Capitalism principles at the tactical level.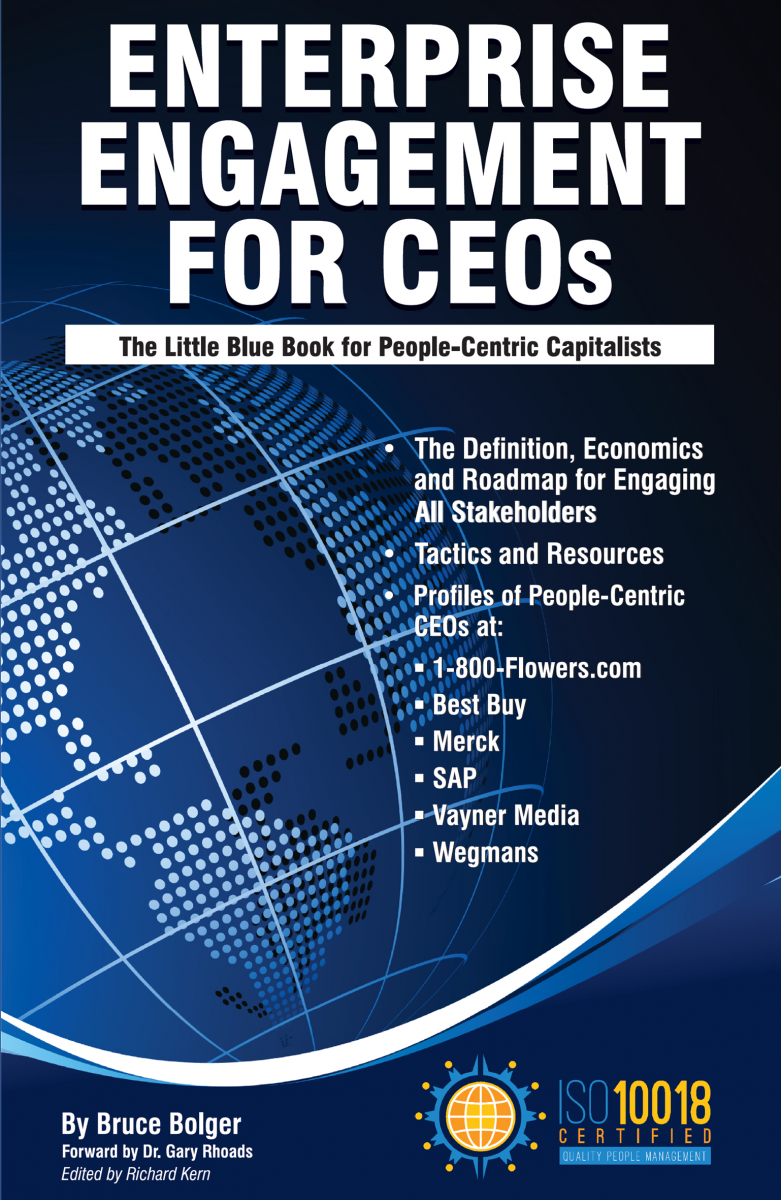 In Print:
This is the definitive implementation guide to Stakeholder Capitalism, written specifically to provide CEOs and their leadership teams a concise overview of the framework, economics, and implementation process of a CEO-led strategic and systematic approach to achieving success through people. (123 pages, $15.99)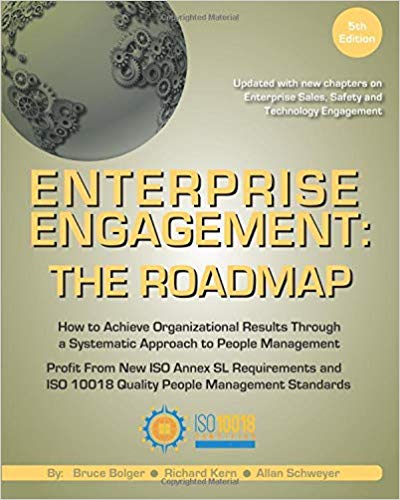 The first and most comprehensive book on Enterprise Engagement and the new ISO 9001 and ISO 10018 quality people management standards. Includes 36 chapters detailing how to better integrate and align engagement efforts across the enterprise. (312 pages, $36.)
Online:
10-minute short course: click here
for a 10-minute introduction to Enterprise Engagement and ISO standards from the Coggno.com learning platform.
Services:
• The Engagement Agency at EngagementAgency.net,
offering: complete support services for employers, solution providers, and technology firms seeking to profit from formal engagement practices for themselves or their clients, including Brand and Capability audits for solution providers to make sure their products and services are up to date.
• C-Suite Advisory Service
—Education of boards, investors, and C-suite executives on the economics, framework, and implementation processes of Enterprise Engagement.
• Speakers Bureau
—Select the right speaker on any aspect of engagement for your next event.
• Mergers and Acquisitions. The Engagement Agency's Mergers and Acquisition group is aware of multiple companies seeking to purchase firms in the engagement field. Contact Michael Mazer in confidence if your company is potentially for sale at 303-320-3777.
Enterprise Engagement Benchmark Tools:
The Enterprise Engagement Alliance offers three tools to help organizations profit from Engagement.
Click here
to access the tools.
• ROI of Engagement Calculator. Use this tool to determine the potential return-on-investment of an engagement strategy.
• EE Benchmark Indicator. Confidentially benchmark your organization's Enterprise Engagement practices against organizations and best practices.
• Compare Your Company's Level of Engagement. Quickly compare your organization's level of engagement to those of others based on the same criteria as the EEA's Engaged Company Stock Index.
• Gauge Your Personal Level of Engagement. This survey, donated by Horsepower, enables individuals to gauge their own personal levels of engagement.
For more information, contact Bruce Bolger at Bolger@TheEEA.org, 914-591-7600, ext. 230.