New Rewards & Recognition Research and Training Manual Published
The Art and Science of Engaging Rewards
, 2nd edition, the most complete compendium of research in the field, is designed to provide a training manual for anyone involved with maximizing the impact of incentive, recognition and loyalty programs.
Click here
for a PDF.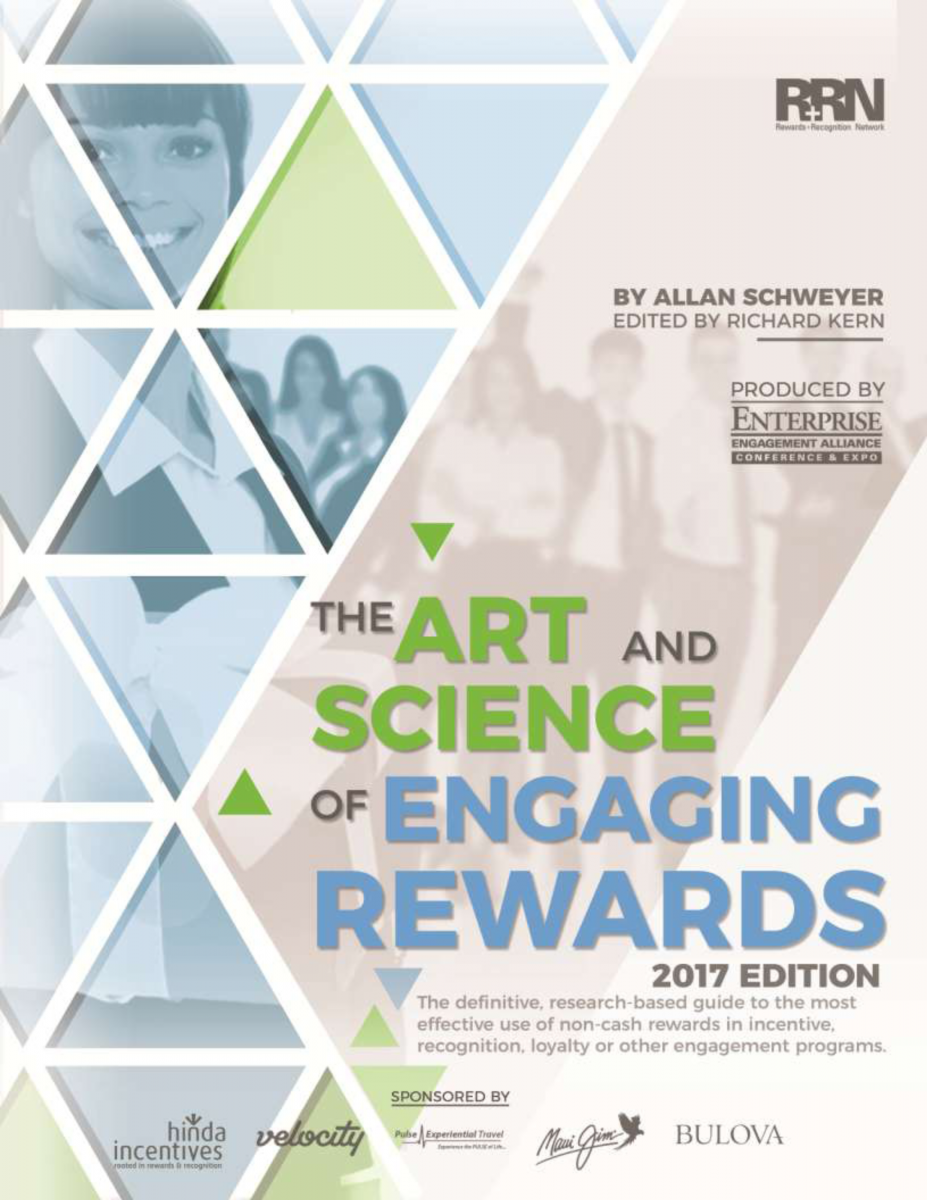 Produced by the Enterprise Engagement Alliance for RRN at RewardsRecognitionNetwork.com, the 90-page book is the only regularly updated comprehensive source on research and best practices in the field. The eBook, made possible by sponsorships from Hinda Incentives, Pulse Experiential Travel, Bulova and Velocity B2B, will be updated quarterly to included latest research and best practices.
According to Allan Schweyer, who authored the eBook, "Based on my many years observing the field, it appears that many incentive, rewards and recognition programs overlook key elements of the research produced over the last decade or more on rewards and recognition. With heightened attention now being placed on engagement, the emergence of ISO 10018 standards that put the focus on best practices, and the increased visibility of leading consultants such as Deloitte active in the engagement space, the demand for a more scientific approach to design and implementation is inevitable. This book is designed to fill that gap."
Adds Schweyer: "While incentive, rewards and recognition programs need to be simple, the science behind them is complex. This eBook drives home the point that this is not a field for amateurs. Unless programs are properly designed, they can backfire. The Art and Science of Engaging Rewards provides both a basic primer and advanced information on the field that's critical to anyone seeking to apply best practices."
Updated to include the implications of formal ISO 10018 quality people management principles, the eBook is designed to provide an authoritative reference for the design and implementation of rewards and recognition programs for anyone involved with the purchase, design, or sale of any type of reward initiative Based on an analysis of latest research, rewards and recognition programs will achieve the best results when they are:
Offered as part of formal programs that address each of the key levers of engagement.
Clearly differentiated from cash compensation and pricing.
Selected with a personal knowledge of the recipient.
Presented in a highly personalized way, appropriate to the individual and the accomplishment.
Used after desired behaviors and achievements to support intrinsic motivators.
Used as incentives only in rare circumstances - i.e., in incentive travel and where intrinsic motivation does not apply (e.g., repetitive, boring tasks).
Systematically measured (tangible returns and intangible value) in a way that can connect performance and behaviors.
The Art and Science of Engaging Rewards provides details on nearly every type of non-cash reward, as well as information on where to purchase them.