Pilgrim Promotions: A Source for Brands and Expertise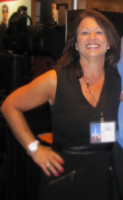 Celebrating its 50th anniversary as a family-owned business, the principals of the Jericho, NY-based Pilgrim Promotions incentive representative firm say its key role is to help clients identify precisely the right brands and stories for its clients in what they believe is a prosperous Incentive, Rewards, and Recognitions (IRR) marketplace.

The Need to Understand Brand Stories
No Business Need too Large or Small
More Newcomers to the Field

When it comes to helping organizations use brands to engage people through incentive, rewards, recognition, or other business programs, one of the most important roles played by incentive representatives is to help organizations select the right brand and product for the objectives, audience, and budget.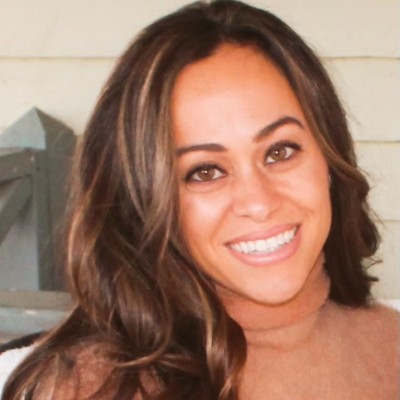 "The world of brands is ever changing," observes Debbie Mischel-Gray, Principal of the company. "I would say that many customers who call often don't know what they want," she adds. Mischel-Gray joined the company as office manager 30 years ago and is now owner of one of the first incentive representative firms serving New York and New Jersey. "We help our clients select the right brands and products; walk them through the process and help them identify what is needed to achieve their goals and make the program happen, adds Sara Dattolo, Vice President, a partner, and a sales professional for the firm since 2006. "Our job is to make it easy."


The Need to Understand Brand Stories

She adds that the company's services "really depend on the customer and the type of program. In our discussions, we talk about what's new. We share the brand history and talk about which brands give back. We talk about core values. Who's green. Who has a charity or what they support. A lot of those topics resonate."

Both believe companies like theirs provide much better service than companies such as Amazon Business because they understand the special needs of corporate customers for incentives, rewards, recognition, loyalty, gifting, and amenities.

As the exclusive representative for its 100-plus brands in its territory, the company welcomes calls from any size or type of organization using brands for business purposes and who need expertise to make the right brand and product selections. Among its many leading brands are Citizen Watch, Bulova, Tumi, Samsonite, Hamilton Beach, Bissell, and other lines ranging from Wine Enthusiast to the most recently added John Medeiros jewelry line. Click here for the full list.

The majority of the company's customers, they agree, are incentive, recognition, and promotional products distributors, and other types of marketing or human resources firms in need of support for the IRR, loyalty, or amenity programs of their clients.


No Business Need too Large or Small

Emphasizes Dattolo, "Call us any time. No request is too big or too small, no matter what you are ordering." She explains, "It's our job to be very knowledgeable with all the lines, to stay up to date. Our service standard is to provide responses within the same day. There is always someone here. Just ask us if you have a need. If it's not a brand we have, we will refer people to another rep in our area. We want the client to achieve the best result."

The IRR field is in the DNA of Pilgrim, explains Mischel-Gray. The company was founded 50 years ago by Joseph and Elle Freda, early leaders in the rep community. Their nephew Jeff Epstein, already long active in the firm, purchased it when the Fredas retired. As office manager, Mischel-Gray recruited her daughter Dattolo to support sales in 2008 and later purchased the company when Epstein retired in 2018, with Dattolo as a partner.

What are some of the biggest changes they have seen in recent years? Responds Dattolo, "We are seeing a lot of new entrants into the rewards space who don't have much experience in this field. We wonder if some think it's really easy, when in fact this business is a lot more complex than people think."

More Newcomers to the Field

Elaborates Mischel-Gray, "Based on the calls we get, a lot of people who are jumping in are really sort of dabbling. On the surface, the business looks great, but we get some crazy calls. People don't realize that if they wish to be in this field, they need to be serious about it and have the necessary knowledge of how the field works. It might look easy, but it takes a lot of work on our part to make it look seamless to our customers."

Another trend noted by Mischel-Gray are mergers and acquisitions, which they have seen in all their customer bases—brands (for instance Citizen Watch America and Tumi and Samsonite) and among incentive, event, promotional products firms. "We are fortunate that these mergers have been good for our business as we now represent brands with an even stronger story in the market."

The Pilgrim team is optimistic. Says Dattolo "There is always room for growth. Everything in this market is every day evolving, and there are always new opportunities. I would say yes, now more than ever, we see potential: it's harder for companies to keep employees. There are challenges getting people back to the office. There are so many ways that companies can use brands to help achieve key goals."

Pilgrim Promotions is part of a group of regional incentive representatives who run the New York Metro Incentive Show, generally held in spring in northeast New Jersey near Manhattan.

For More Information

Sara Dattolo
Sales Professional
Pilgrim Promotions
Pilgrimpromotions.com
sarad@pilgrimpromotions.com


---
Education, Certifications, and Information to Activate
Brand Media and Enterprise Engagement

A complete learning, certification, and information program and a course syllabus for educators.
Resources:
The
Brand Media Coalition
, the only guide to the story-telling power of brands and where to source them for business, event, promotional gifting, and rewards and recognition.
Enterprise Engagement Solution Provider Directory
. The only directory of engagement solution providers covering all types of agencies and tactics as well as insights on how to select them.
Communities:
The
Enterprise Engagement Alliance and Advocate
and the
Brand Media Coalition
free resource centers offering access to the latest research, news, and case studies; discounts, promotions, referrals, and commissions, when appropriate to third-party solution providers from participating coalition solution provider members.
Training and Certification
Enterprise Engagement Alliance Education:
Certified Engagement Practitioner; Advanced Engaged Practitioner, and Certified Engagement Solution Provider learning and certification programs on how to implement Stakeholder Capitalism principles at the tactical level.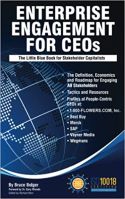 In Print:
This is the definitive implementation guide to Stakeholder Capitalism, written specifically to provide CEOs and their leadership teams a concise overview of the framework, economics, and implementation process of a CEO-led strategic and systematic approach to achieving success through people. (123 pages, $15.99)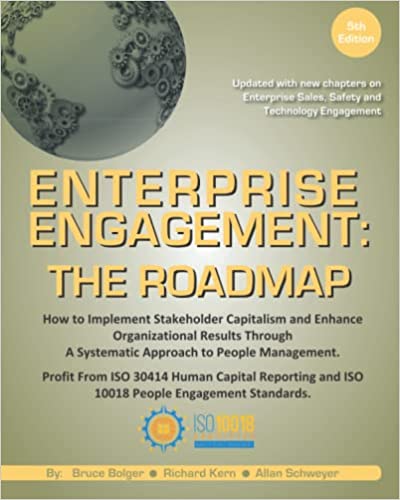 The first and most comprehensive book on Enterprise Engagement and the new ISO 9001 and ISO 10018 quality people management standards. Includes 36 chapters detailing how to better integrate and align engagement efforts across the enterprise. (312 pages, $36.)
Online:
10-minute short course: click here
for a 10-minute introduction to Enterprise Engagement and ISO standards from the Coggno.com learning platform.
Services:
• The Engagement Agency at EngagementAgency.net,
offering: complete support services for employers, solution providers, and technology firms seeking to profit from formal engagement practices for themselves or their clients, including Brand and Capability audits for solution providers to make sure their products and services are up to date.
• C-Suite Advisory Service
—Education of boards, investors, and C-suite executives on the economics, framework, and implementation processes of Enterprise Engagement.
• Speakers Bureau
—Select the right speaker on any aspect of engagement for your next event.
• Mergers and Acquisitions. The Engagement Agency's Mergers and Acquisition group is aware of multiple companies seeking to purchase firms in the engagement field. Contact Michael Mazer in confidence if your company is potentially for sale at 303-320-3777.
Enterprise Engagement Benchmark Tools:
The Enterprise Engagement Alliance offers three tools to help organizations profit from Engagement.
Click here
to access the tools.
• ROI of Engagement Calculator. Use this tool to determine the potential return-on-investment of an engagement strategy.
• EE Benchmark Indicator. Confidentially benchmark your organization's Enterprise Engagement practices against organizations and best practices.
• Compare Your Company's Level of Engagement. Quickly compare your organization's level of engagement to those of others based on the same criteria as the EEA's Engaged Company Stock Index.
• Gauge Your Personal Level of Engagement. This survey, donated by Horsepower, enables individuals to gauge their own personal levels of engagement.
For more information, contact Bruce Bolger at Bolger@TheEEA.org, 914-591-7600, ext. 230.