Promotional Distributors: Brands Are Here to Stay
Some of the promotional products industry's social media platforms were abuzz recently about the presence of leading brand names at the recent Promotional Products Association International Expo. Some distributors expressed concern that the PPAI would allow brands to exhibit because corporate buyers can purchase directly through these brands. The fact is, brands provide a major new opportunity for enterprising distributors. Don't ask why brands are selling to customers directly, ask why your customers are going directly to the brands.
By Guy Achtzehn
Brands may provide the biggest opportunity for the promotional products industry in decades. There's a $45 billion plus market for brands being used for business, event, and promotional gifting flowing through retail simply because corporate customers are unaware of the ability to purchase and customize brands through the current distributor marketplace. Distributors who seize this opportunity can enhance the perceived value of their own brand by adding brand name merchandise, gift cards, and travel to their business, event, and promotional offerings.
For the nearly 30 years I've been in this business, distributors have cast a wary eye on selling brands for business, event, and promotional gifting. In some cases, for good reason. The usual reasons are that brands are often in channel conflict because corporations can purchase directly from brands through their corporate sales divisions, and retailers, both online and offline, and because brands offer lower margins than promotional products.
The opportunities provided by selling brands far outweigh the concerns, which is why more distributors than ever are selling both brand-name products and even retail gift cards despite the legacy concerns.

Why the Sudden Change
The simple reason is that people love brands. Brands have high perceived value and tell a story as much about the giver than the recipient, which explains the success of Coleman, Bulova, North Face and other leading brands in the market. While most of the traffic at the PPAI show is in the promotional products area, almost all the attendees come wearing brand name shirts or carrying brand-name backpacks or bags. Now, many of those same people recognize their customers are interested in brands as well.
Following the PPAI expo, several distributors on social media posts expressed concern that PPAI would allow companies to exhibit who sell direct. In one such exchange, a PPAI spokesperson replied that all exhibitors must prove that they sell through distributors by providing invoices to prove it, but that anti-trust laws would not allow the associations to disqualify companies that also sell through other channels. They are correct. But this is not limited to just "retail brands." Trusted suppliers in the promotional arena have the same rights.
The reason for this concern about brands should be long behind us. Since the last century, when the promotional industry developed the coding system to discourage corporate buyers from purchasing directly from suppliers, the entire system has broken down. As a result of the Internet, not only can corporate buyers go online to shop for promotional products directly from suppliers, many distributors now bypass suppliers to source directly overseas. If distributors fail to add value by helping relieve their clients of the burden of shopping for products and solutions, they will not thrive even if PPAI were to forbid brands from exhibiting. Yes, our industry has changed and we all must change with it.
Brands aren't equipped to help the corporate customer.
For most brands, the corporate market is a rounding error in comparison with retail sales. In addition, most brands have very little knowledge of the corporate market and have very small corporate sales departments that can't possibly meet the needs of hundreds of thousands or more corporate buyers. Moreover, some brands simply do not want to set up accounts for anything but large volume customers. Even if corporate customers somehow stumble on to the brand's corporate sales department, it's unlikely they will get the type of service required of an effective bulk gifting program, which is why so many brands already refer these leads to their distributor partners. (If you are a distributor, are you part of this network? If not, go to
BrandMediaCoalition.com
, and click
Join
. It's free and provides access to advantageous pricing and rebate offers for distributors. Or, contact me using the information below.)
You can't deposit "margins" into the bank. I often hear distributors complain about the lower margins available from brands, but this calculation fails to take into account that the average order size for gifting programs using brands is often 10 times or more greater than the average order size for non-branded promotional products, which by all estimates is well under $1,000. Which is better, a 40% margin on a $1,000 order, or a 10% to 20% margin (or better) on a $10,000 order? Industry surveys indicate that distributors are responsible for a sizeable percentage of retail gift card sales for business gifts. These companies are obviously finding a way to make money on a medium with an average margin as low as 3%. Perhaps they have found that these services provide a "value" to their corporate customers that can lead to or be part of more profitable business, such as ways to customize the gift card or presentation experience.
Why distributors have to sell brands. The only reason why more distributors are selling brands and retail gift cards is because their clients are asking for them. Customer-focused distributors figure out a way to make money when their clients make requests rather than let them buy elsewhere. Based on multiple surveys and years of industry research, the vast majority of business gifts are purchased at retail simply because these customers have no idea they can get better service, and often better pricing, through the corporate channel we can tap. If they are not asking their distributors about using brands as gifts, it's not because they do not use brands as gifts, it's more than likely because they are not aware that their promotional product sales representatives can provide brands and gift cards. Out of sight, out of mind.
An existing market ready to tap. There's a $45 billion market of business gifts being sold through retail, ready to be tapped by enterprising distributors who help their clients better tell their stories through business, promotional and event gifting programs that leverage the power of brands. Brands will never supplant non-brands as promotional products, but they already dominate the business gift market that should be the target of all enterprising distributors seeking to provide more value.
For More Information
President, Marketing and Sales Group and Director, Outreach for the Brand Media Coalition at
BrandMediaCoalition.com
Tel. 717-846-4045
---
Master the Principles of Enterprise Engagement to Achieve Organizational Goals and Enhance Your Career
Profit from a new strategic and systematic approach to engagement to enhance your organization's brand equity; increase sales, productivity, quality, innovation, and safety, and reduce risks.
Get trained to become a Chief Engagement Officer for your organization.
Achieve ISO 10018 Quality People Management Certification to demonstrate your organization's strategic commitment to people to your customers, employees, distribution partners, vendors, communities, investors, and regulators.
Learn how to create Sustainability or Integrated Reports for Your Organization or Clients.
Get up-to-speed on ISO human resources standards and guidelines to enhance HR performance.
Live Education:
The Northwestern University Law School's Workforce Science Project is hosting the first certification preparation program for ISO 30414 Human Capital Reporting and ISO 10018 Quality People Management standard, the first of which was recently achieved by DTE Energy. Professionals for organizations and solution providers seeking to benefit from the new ISO 30414 Human Capital Standards, ISO 10018 Quality People Management, and other standards can attend an intensive program requiring no more than one night away from the office for most US attendees to learn how these standards an improve performance, efficiency, and stakeholder experiences and prepare for certification. Click here for more information.
Enterprise Engagement in Action. Take advantage of scheduled monthly live webinar preparation courses for the Certified Engagement Practitioner designation consisting of three one-hour classes and of quarterly Advanced Engagement Practitioner courses consisting of three one-hour webinar classes. The AEP course is for individuals or teams seeking preparation ISO 10018 professional certification status. ICEE periodically runs regional one-day workshops on ISO 10018 Quality People Management principles and certification.
Resources: The Brand Media Coalition, the only guide to the story-telling power of brands and where to source them for business, event, promotional gifting, and rewards and recognition.
2019 Enterprise Engagement Solution Provider Directory
. The only directory of engagement solution providers covering all types of agencies and tactics as well as insights on how to select them.
Communities: The Enterprise Engagement Alliance and Advocate and the Brand Media Coalition free resource centers offering access to the latest research, news, and case studies; discounts, promotions, referrals, and commissions, when appropriate to third-party solution providers from participating coalition solution provider members.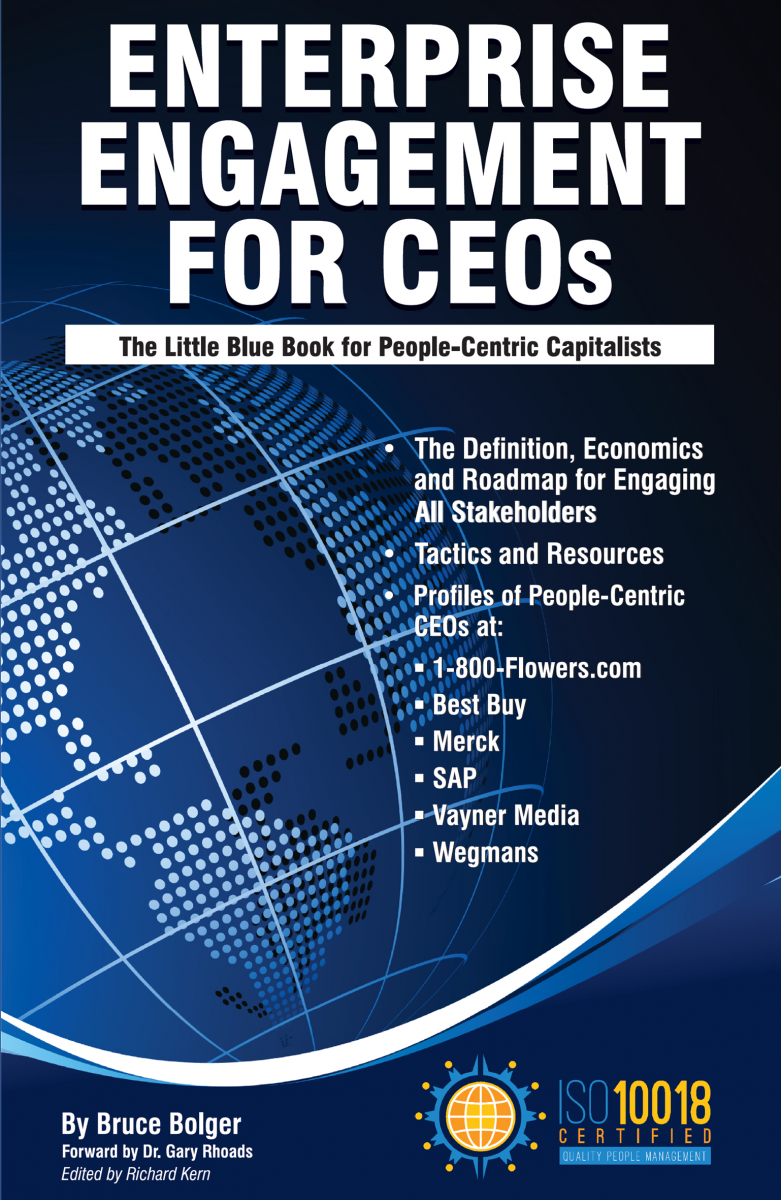 Enterprise Engagement: The Roadmap 5th Edition
The first and most comprehensive book on Enterprise Engagement and the new ISO 9001 and ISO 10018 quality people management standards. Includes 36 chapters detailing how to better integrate and align engagement efforts across the enterprise. (312 pages, $36.)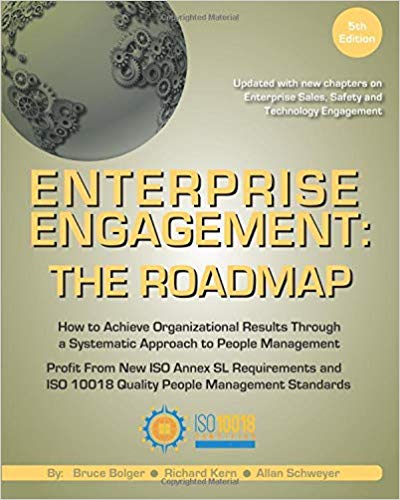 Online:
10-minute short course: click here for a 10-minute introduction to Enterprise Engagement and ISO standards from the Coggno.com learning platform.
Services:
• The International Center for Enterprise Engagement at TheICEE.org, offering: ISO 10018 certification for employers, solution providers, and Enterprise Engagement technology platforms; Human Resources and Human Capital audits for organizations seeking to benchmark their practices and related Advisory services for the hospitality field.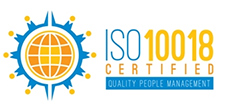 • The Engagement Agency at EngagementAgency.net, offering: complete support services for employers, solution providers, and technology firms seeking to profit from formal engagement practices for themselves or their clients, including Brand and Capability audits for solution providers to make sure their products and services are up to date.
• C-Suite Advisory Service—Education of boards, investors, and C-suite executives on the economics, framework, and implementation processes of Enterprise Engagement.
• Speakers Bureau—Select the right speaker on any aspect of engagement for your next event.
• Mergers and Acquisitions. The Engagement Agency's Mergers and Acquisition group is aware of multiple companies seeking to purchase firms in the engagement field. Contact Michael Mazer in confidence if your company is potentially for sale at 303-320-3777.
Enterprise Engagement Benchmark Tools: The Enterprise Engagement Alliance offers three tools to help organizations profit from Engagement. Click here to access the tools.
• ROI of Engagement Calculator. Use this tool to determine the potential return-on-investment of an engagement strategy.
• EE Benchmark Indicator. Confidentially benchmark your organization's Enterprise Engagement practices against organizations and best practices.
• Compare Your Company's Level of Engagement. Quickly compare your organization's level of engagement to those of others based on the same criteria as the EEA's Engaged Company Stock Index.
• Gauge Your Personal Level of Engagement. This survey, donated by Horsepower, enables individuals to gauge their own personal levels of engagement.
For more information, contact Bruce Bolger at Bolger@TheEEA.org, 914-591-7600, ext. 230.