Reimagining Business Meetings and Incentive Travel Post-Covid
Despite a lot of talk about reimagining business meeting, association, and incentive travel formats after the end of the pandemic, and research from multiple sources that attendees highly prefer to spend time with one another than being lectured to in keynotes and panel discussions, there is evidence that the MICE (meetings, incentive, conventions, and exhibitions) is going back to business as usual, except perhaps in the area of environmental sustainability. This Enterprise Engagement Alliance RRN YouTube show will interview five highly experienced meetings and incentive travel specialists to find out what's happening at the front lines.

Click here for links to RRN Preferred Solution Providers.

Four meetings and incentive travel executives and a research expert on all aspects of engagement will join an Enterprise Engagement Alliance RRN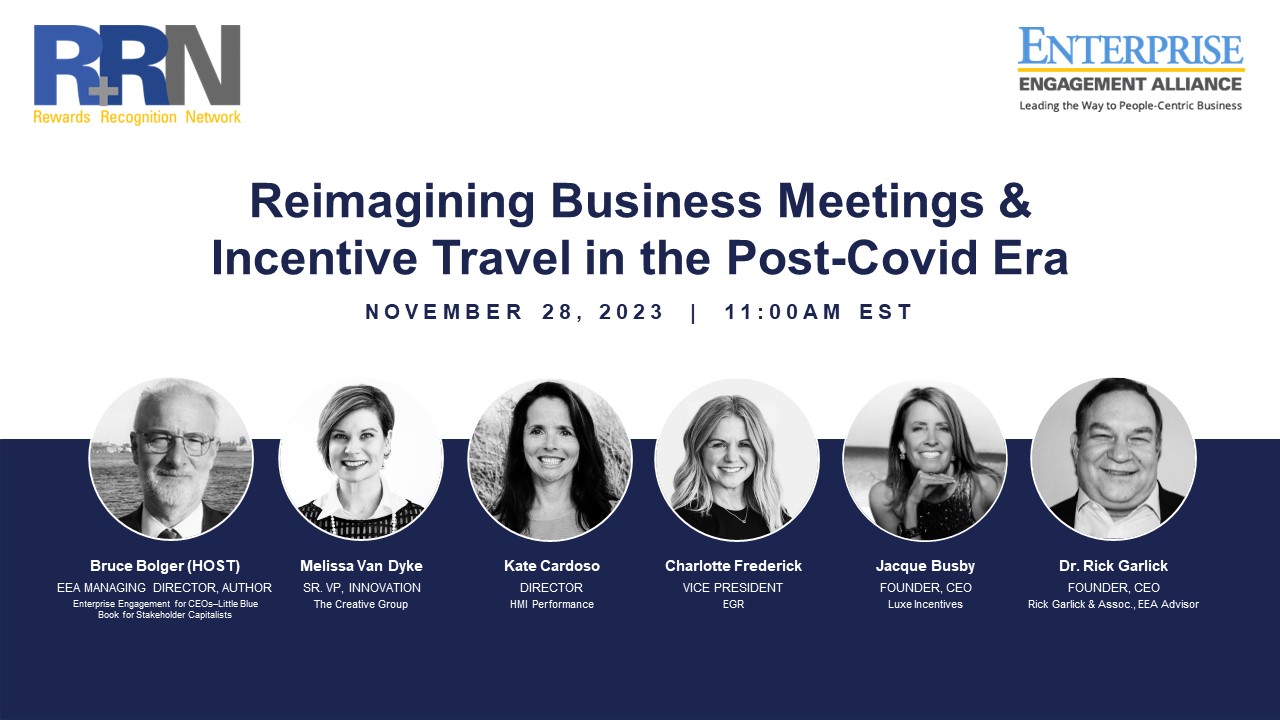 at RewardsRecognitionNetwork.com live and streamed EEA YouTube Show on "Reimagining Business Meetings and Incentive Travel in the Post-Covid Era."

Have business and association meeting formats changed from the traditional keynote and panel discussion formats that can now be so easily produced via live and streaming video? Are business and association meetings still mostly comprised of auditorium formats versus interactivity, except for breaks, meals, and free time? During the pandemic, experts talked about completely reversing the time spent in plenaries/panels (usually 80%) to 20%, focusing mostly on how to foster collaboration, interactivity, relationship building that can't occur in an auditorium. Are organizations that use incentive travel actually embracing unique, authentic experiences and new destinations, as the research suggest? Is sustainability in meetings and incentive travel and corporate social responsibility for real or just greenwashing?

Register here for the live program on Tue. Nov. 28 at 11 am ET or stay tuned afterwards for the summary article and link to the show for streaming on the EEA Enterprise Engagement and Human Capital YouTube Channel.

According to the latest Northstar/Cvent survey on incentive travel, "programs are building in more flexible agendas to meet participants' varied preferences. The latest Hilton Trend Report predicts "that travelers of all ages will value connectivity and personalization, seek out culture and unique experiences, and embrace new business travel trends as travel boom continues." In the latest Incentive Research Foundation/SITE 2023 Incentive Travel Index, Stephanie Harris, Incentive Research Foundation President, writes "Incentive travel is expected to be fresh and exciting, with 71% of our respondents indicating an increased demand for new destinations not used before."

This show will address what's actually happening at the front lines. Are association and corporate planners so relieved to be back in business that all the discussion of innovation and transforming experiences was talk or can we expect serious changes in event formats across the spectrum? Is sustainability hype?

Panelists are Jacque Busby, Founder, CEO of Luxe Incentives, a 32-year-old meetings and incentive travel firm; Kate Cardoso, Director, Strategic Services, HMI Performance Incentives founded in 1980; Charlotte Frederick, Vice President, Special Markets, EGR International, founded in 1970, Dr. Rick Garlick, Founder, Rick Garlick & Associates, with decades of research experience in all areas of customer and employee engagement and eperiences; and Melissa Van Dyke, Senior Vice President, Integrated Marketing and Innovation, The Creative Group, founded in 1970.

Register here for the live program on Tue. Nov. 28 at 11 am ET or stay tuned afterwards for the summary article and link to the show for streaming on the EEA Enterprise Engagement and Human Capital YouTube Channel.

Subscribe to RRN's weekly e-newsletter.

---
Profit From the "S" of Environmental, Social, Governance (ESG)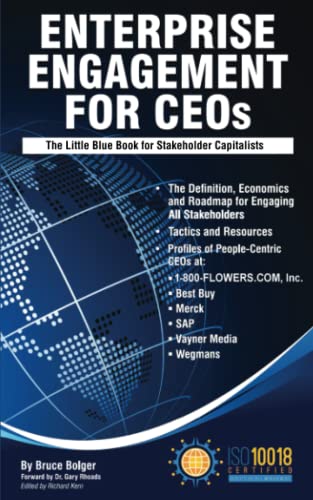 Through education, media, business development, advisory services, and outreach, the
Enterprise Engagement Alliance
supports boards, business analysts, the C-suite, management in finance, marketing, sales, human resources and operations, etc., educators, students and engagement solution providers seeking a competitive advantage by implementing a strategic and systematic approach to stakeholder engagement across the enterprise.
Click here
for details on all EEA and RRN media services.
1. Professional Education on Stakeholder Management and Total Rewards
Become part of the EEA as an individual, corporation, or solution provider to gain access to valuable learning, thought leadership, and marketing resources.
The only education and certification program focusing on Stakeholder Engagement and Human Capital metrics and reporting, featuring seven members-only training videos that provide preparation for certification in Enterprise Engagement.
EEA books: Paid EEA participants receive Enterprise Engagement for CEOs: The Little Blue Book for People-Centric Capitalists, a quick implementation guide for CEOs; Enterprise Engagement: The Roadmap 5th Edition implementation guide; a comprehensive textbook for practitioners, academics, and students, plus four books on theory and implementation from leaders in Stakeholder Management, Finance, Human Capital Management, and Culture.
2. Media
3. Fully Integrated Business Development for Engagement and Total Rewards
Strategic
Business Development
for
Stakeholder Management
and
Total Rewards
solution providers, including Integrated blog, social media, and e-newsletter campaigns managed by content marketing experts.
4. Advisory Services for Organizations
Stakeholder Management Business Plans
;
Human Capital Management, Metrics, and Reporting
for organizations, including ISO human capital certifications, and services for solution providers.
5. Outreach in the US and Around the World on Stakeholder Management and Total Rewards
The EEA promotes a strategic approach to people management and total rewards through its e-newsletters, web sites, and social media reaching 20,000 professionals a month and through other activities, such as: