Rewards in the Era of Engagement
The emerging field of engagement is putting a new emphasis on careful selection, presentation, and customization of packaging, delivery and rewards.
By Judy Williams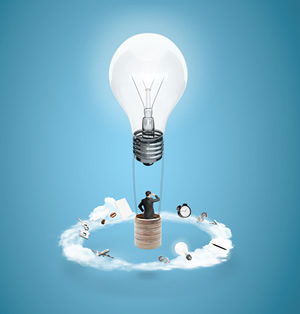 A pair of sunglasses. Pretty standard stuff. Most of us have a few around the house or in the car. Lose a pair, pick up a replacement at the drugstore.
So how do you make something as ubiquitous and run-of-the-mill as a pair of sunglasses into an engagement tool that rewards recipients, motivates them to perform "above and beyond" and binds them to the organization?
Meet Brett Hatch, Senior Director of Global Corporate Gifts at Maui Jim Sunglasses. Contrary to what you might think, Hatch and his crew don't just sell sunglasses. They create comprehensive, experiential, personalized, customer engagement programs.

Seriously? A pair of sunglasses is an engagement program? Seriously?
It is at Maui Jim. The company realized years ago that motivation and incentives aren't about the "stuff" – the TV, the trip, the trophy. They're about the experience, the emotional connection that an award makes. So Maui Jim created a program that hits virtually every point on a recognition manager's wish list.
Here's how it works: A Maui Jim team meets your group, virtually anywhere in the world, and sets up a themed, vibrant station featuring trained staff to present and fit your award recipients with a pair of high-end sunglasses from a selection of eighteen of the most popular styles. With a nod to team building, attendees crowd around the station, try on different pairs and consult one another in an effort to find that perfect pair. Hatch believes the presentation of a carefully chosen, high-end product provides instant gratification; selecting a pair among co-workers improves morale and attendees will fondly remember the event each time they put on their Maui Jims. "We've been doing this since 2000 and we understand the needs of the marketplace and what the experience needs to be," Hatch explains.
'Seeing the Rebound'
In the age of engagement, rewarding employees who "span the ages," so to speak, is a challenge all managers face. "From an engagement perspective, we're seeing a large push with the Baby Boomers retiring and passing the baton to the Millennials coming on board," says Anne Jetter, Director of Merchant Services & Channel Marketing at Omaha, NE-based GC Incentives. "Their tenure is different, and businesses today are facing a very large challenge in determining how to keep them all engaged."
What has changed, coming out of the recession, is the concept of engagement, explains Patty Pae, VP of Business Development for American Express Travel's Travelink. "We're see the rebound; reward and incentive programs were hit hard by the economy, and we see companies using engagement strategies not just for employees, but spread out through all aspects of the business." Pae sees employees asking themselves: How good is this company to do business with? Are they aware of the overall impact their business has? Are they community oriented? Sustainable? Is CEO compensation reasonable? "People are definitely taking a more holistic view," she says.
The Ultimate Goal
The concept of recognition has dramatically evolved from the days of flying your top sales performers to Hawaii for a week of fun and sun. With so much focus on engagement, Anne Jetter believes determining the ultimate goal or outcome is the first question that must be answered before rewards are even considered.
When working with clients, she factors in different initiatives that today's companies might bring under the rewards umbrella. A safety initiative could educate employees and provide a higher level of training on better safety practices that will ultimately benefit the whole company. A wellness initiative might set a goal of shaving "x" dollars off insurance costs and claims. "…the company then creates a program to help employees quit smoking and make other lifestyle changes," she explains.
Jetter believes such programs can evolve into office-wide initiatives when the participants are truly engaged. "We might set up a walking or exercise club; participants log in, prove they participated and when goals are met, the employee is rewarded." She says rewards can be non-monetary or modest – a "Good job" email to colleagues, a simple $5 gift certificate, or something more elaborate. "When people are working together towards the good of the company, everyone wins."
"Engagement is a big buzzword," says Rick Rubin, SVP of Strategic Partnerships at Illinois-based National Gift Card (NGC). "Our corporate clients trying to measure productivity in the workplace use gift cards and incentive programs to do that." Rubin says the gift card business continues to experience double-digit growth "year after year," the business ticking ever upward because of its simplicity – and the fact that gift cards are an easy vehicle to engage and thank or reward people.
While NGC doesn't communicate directly with the end-user, they do provide clients with a customized template so the company can personalize messaging. "The end recipient receives a more personalized piece," Rubin explains. He admits most retailers don't allow customized gift cards, and many don't accept bar codes from a mobile handset. "Boomers prefer something tangible – a piece of paper they print to use for redemption – whereas Millennials prefer digital," he says, adding that the move to mobile is definitely a trend worth watching.
Bringing Back Enthusiasm
When you consider the many touchpoints of rewards and recognition, travel meets them all, says Travelink's Patty Pae: "Today's travel programs are customized, personalized, experiential and create lasting memories. We want people to use their travel reward to take Grandma with them to the Caribbean instead of visiting her for Christmas."
When people return from their trips they bring back enthusiasm and pictures (and maybe a tan), all of which they share with colleagues. "We try to provide them with some kind of 'wow factor' and bragging rights," Pae says. "It makes other people want to aspire to a higher level of achievement."
Making memories is something Joe Hafenscher understands. The VP of Sales at Fujifilm Special Markets believes products like the Fujifilm "instax" Instant Camera and Film are all about memories and the elusive "emotional connection." This nifty new model hearkens back to the days of the Polaroid when we watched photos pop out of the camera and develop before our eyes. But the instax isn't just popular with Boomers. Hafenscher has seen surprising success with the younger set who think a photo popping out of a camera is something new.
"These cameras are great for travel-related programs, to document the event on-site and also make memories," Hafenscher says, adding that they're also great for general, themed events. "Obviously, the instax is used for rewards and recognition, but it's also a great gift, and producing a printed photo on the spot is a memorable experience." Fujifilm can even personalize the cameras with a company name and logo, creating a customized gift that also serves as a reminder of the event each time it's used.
Another travel trend that Pae has observed is the blending of business travel with leisure, or "Bleisure" (see sidebar). "Companies haven't openly faced this issue before, where employees blend their personal time with business travel," she says. "For Baby Boomers, the concept of travel is a luxury that means one is doing well, whereas Millennials in general want to be exposed to more," Pae says.
Organizational DNA
Pae sees the decision to offer travel as a reward as part of an organization's DNA. "Nine out of ten business trips have a leisure component," she says, noting that people use pre- and post-business time to extend their travel experience. "It all goes back to the organization, but it can be seen as part of an overall health and wellness initiative and recognition for a job well done," she adds.
Bottom line: In this era of engagement, rewards and recognition are just one element of a comprehensive engagement strategy. Such initiatives are inextricably linked to an organization's culture, productivity, performance and employee satisfaction, and thus need to complement an organization's DNA, as Pae points out. The inherent generation gap from Boomers to Millennials need not be seen as an obstacle, but rather a creative challenge to incorporate into an organization's overall engagement initiative.
The Rise of 'Bleisure'
Travel suppliers are pursuing a new segment of the market known as "bleisure" travel – or as Avis has dubbed it, "bizcation." While the term may be new, the concept of combining business and leisure travel has been around a long time. However, in the past employees tended to downplay their pre- and post-business travel activities because the mere hint of combining business with pleasure was verboten.
But a reexamination of the costs and benefits of bleisure travel has changed all that. Patty Pae, VP of Business Development at American Express Travelink, now sees travel being woven into the enterprise engagement fabric of companies in the following ways:
Business Travel – client-facing travel
Business Travel that incorporates leisure travel; i.e. "bleisure" travel
Paid Time Off (PTO) benefits
Incentives and Meetings programs
Rewards and Recognition programs for employee and clients by customized, individual travel experiences
Some engaging facts reported in by Bridgestreet in Bleisure Report 2014:
The majority of travel is for leisure, with business making up 30% or less
83% of respondents use time on business trips to explore the city they're visiting
Six out of 10 travelers are away from home on business 10 or more days per year, with 20% away for 60+ days
More Data on Bleisure Travel
The majority of respondents (60%) have taken bleisure trips, with most (30%) respondents adding two vacation days to business trips
Nearly half of respondents (46%) add personal travel days to business travel "every trip" or to "most trips"
The three most popular bleisure activities are:

Sightseeing
Dining
Arts/Culture

96% of respondents believe they gain cultural experience/knowledge through bleisure trips
The top reason for bleisure travel is a desire to see the world and gain cultural experiences
More than half (54%) of travelers that take bleisure trips bring their family members