SEC Human Capital Disclosures Draw Mixed Reaction From IRR Leaders
The incentive, recognition and reward business has greeted the new SEC human capital disclosure requirements and subsequent World Economic Forum Stakeholder Capitalism metrics with mixed enthusiasm, with some calling it tectonic and others skeptical it will have any impact. This article is part of an ongoing series in RRN and its partner platform ESM at EnterpriseEngagement.org following the repercussions, if any, of this new SEC requirement for human capital disclosures by public companies and new standards published and announced by the World Economic Forum in a recent video that require detailed disclosures of human capital and environmental practices, as well as governance.
In the last two months, the Securities & Exchange Commission has issued new requirements requiring public companies to disclose their practices and measures for recruiting, developing, and retaining employees to the extent human capital is material to their material success. In the following month, the 120-member International Business Council of the World Economic Forum introduced new standards for the reporting of human capital that include: a statement of the organization's purpose as well as comparable information on diversity, pay equity, health and safety, training, employee turnover, and oversight of supply chain people practices, among others.
RRN reached out to the principles of about 50 of the largest incentive, recognition, and loyalty companies in this tight-knit business by email and phone calls and received on and off the record comments from about 10. Reactions covered the gamut from enthusiastic, hopeful, to negative.
A Potentially Tectonic Shift
To
Dr. Paul White,
psychologist, co-author of the best-selling,
The 5 Languages of Appreciation in the Workplace
, it's a tectonic shift. "The over-used, and, often meaningless platitude 'Your employees are your most important asset' is transitioning to a truth that organizational leaders now must actually embody in the decisions they make, thanks to a recent decision by the SEC. This decision, requiring publicly traded companies to disclose the practices and measures they use to attract, retain, and develop employees, is nothing less than a tectonic shift in the cosmos of organizational leadership. Long predicted, and long overdue, the empirically-based and strategically focused practices that undergird the well-being of employees and healthy workplace cultures will now become a core aspect of all companies who strive to be productive, profitable marketplace leaders."
Similarly enthusiastic is
Rob Purdy
, CEO of
CarltonOne
, a Toronto-based enterprise engagement technology and gifting platform that promotes and supports ESG (Environmental, Social, and Governance) management practices. "The combined announcement of the new SEC disclosure requirements and the World Economic Forum Stakeholder Capitalism metrics that include both environmental and people disclosure standards are an unexpected endorsement of the vision of our company to accelerate effective practices in ESG. When the financial regulatory agency of the world's leading financial power and one of the most prestigious organizations in business proclaim that people are material to success, it draws immediate attention to how companies like ours can help organizations of any size achieve their goals and create better experiences for all their people through enterprise engagement applications accessible at any time, securely, through their smart phones, with minimum environmental impact."
Also hopeful is
Steve Maritz
, President of St. Louis-based
Maritz
, who sees both big potential and also competition. "We look forward to any type of opportunity that comes out of the new SEC human capital disclosures. In general, I think it could help organizations pay more attention to their most critical asset. Any time organizations are going to be measured on how well they engage employees is good for us, because that's what we do." He believes that the new focus on human capital reporting will be good for a lot of companies in a way that will also attract competition.
The focus on measurement is a positive move, says
Bob Randall
, CEO of
Transcend Engagement
, an employee engagement and advisory services firm. "We abide by the axiom, 'what gets measured, gets done'. So we are excited to see the SEC begin to require businesses report on human metrics. Employee engagement is a leading indicator of performance. Through technology and training, the tools exist not only to measure engagement but to give lift to engagement. Our industry is well positioned to help businesses not only comply with this new regulation but give them an impressive ROI."
Mike Donnelly
, President of
Hinda Incentives
, a veteran of the industry, takes satisfaction that "The SEC has finally recognized something every human performance improvement professional has known for years. How a company manages its human capital is critical to the long-term success of the organization. It's gratifying to see those responsible for ensuring investors get the most accurate insights on publicly-held companies requiring at least some minimal disclosures about how these companies manage their people."
Speaking for the
Incentive Marketing Association
,
Fintan Connolly
, Chief Revenue Officer,
Motisha
; and Vice President, Incentive Marketing Association (IMA), says, "We at the Incentive Marketing Association (IMA) encourage organizations to grow and make changes and this cannot be done without achieving goals with our teams and people. It is good to see that many CEO's are beginning to recognize how all people involved are inextricably linked and at the center of our organizations. This increased understanding can help companies become more successful for our customers, our partners, our shareholders and also, yes, our stakeholders. It's about the Human Experience (HX) across the value chain."
Observes
Phil Stewart,
CEO,
Engage2Excel Group,
"This ruling solidifies the importance of human capital practices and their impact on business outcomes."
Brian Galonek,
President of
Allstar Incentive Marketing,
concludes, "It was truly encouraging watching the WEF webinar on Stakeholder Capitalism which featured major CEOs including Brian Moynihan, Chairman and CEO of Bank of America. This group is now singing off the enterprise engagement song card about the need to involve all stakeholders when running a company, not just the shareholders.
The C-suite is clearly coming to realize that the best way to meet the needs of not just shareholders and customers, but also employees is to focus on environmental, social, and corporate governance (ESG), and employee engagement is a crucial part of doing so. Not simply to respond to the world we live in, but equally to ensure the financial viability of their companies. As Moynihan puts it 'If you… had avoided investing in companies that don't do well in the ESG metrics you could've avoided 90% of bankruptcies over the last decade.' CEOs need to let that point sink in and then they need to act accordingly."
The Contrary View: Impact Could Be Limited
Not as confident that disclosures will move the needle,
Mike May
, President of
Brightspot Incentives & Events
, and 2018 and 2019 chair of the Incentive Research Foundation, observes, "Corporate America files 10-Ks with boilerplate, but top-performing companies that value and engage talent as a competitive advantage will be sure to include better storytelling about their recognition programs, sales incentives, and club trips."
Those contacted who see little impact preferred not to be quoted by name. The CEO of a leading incentive company is skeptical. "I just don't believe that the disclosure of HR practices will have much, if any, impact on the decisions made by the Global 2000. They will continue to make decisions as they always have and comply with the requirement to disclose what they do. The requirement to disclose means little." Echoes the CEO of a large incentive company, "None of our clients are asking for this and we can pivot when they do." A senior executive at a large incentive company says his company hasn't yet evaluated the potential impact. Declining to participate in the article, the head of marketing for a mid-size incentive company, says, "Ours is a very different marketing approach for employee and channel success programs."
RRN will continue to follow developments in human capital disclosures and their potential impact as will its ESM at
EnterpriseEngagement.org
media.
---
Education, Certifications, and Information to Activate
Brand Media and Enterprise Engagement

A complete learning, certification, and information program and a course syllabus for educators.
Resources:
The
Brand Media Coalition
, the only guide to the story-telling power of brands and where to source them for business, event, promotional gifting, and rewards and recognition.
Enterprise Engagement Solution Provider Directory
. The only directory of engagement solution providers covering all types of agencies and tactics as well as insights on how to select them.
Communities:
The
Enterprise Engagement Alliance and Advocate
and the
Brand Media Coalition
free resource centers offering access to the latest research, news, and case studies; discounts, promotions, referrals, and commissions, when appropriate to third-party solution providers from participating coalition solution provider members.
Training and Certification
Enterprise Engagement Alliance Education:
Certified Engagement Practitioner; Advanced Engaged Practitioner, and Certified Engagement Solution Provider learning and certification programs on how to implement Stakeholder Capitalism principles at the tactical level.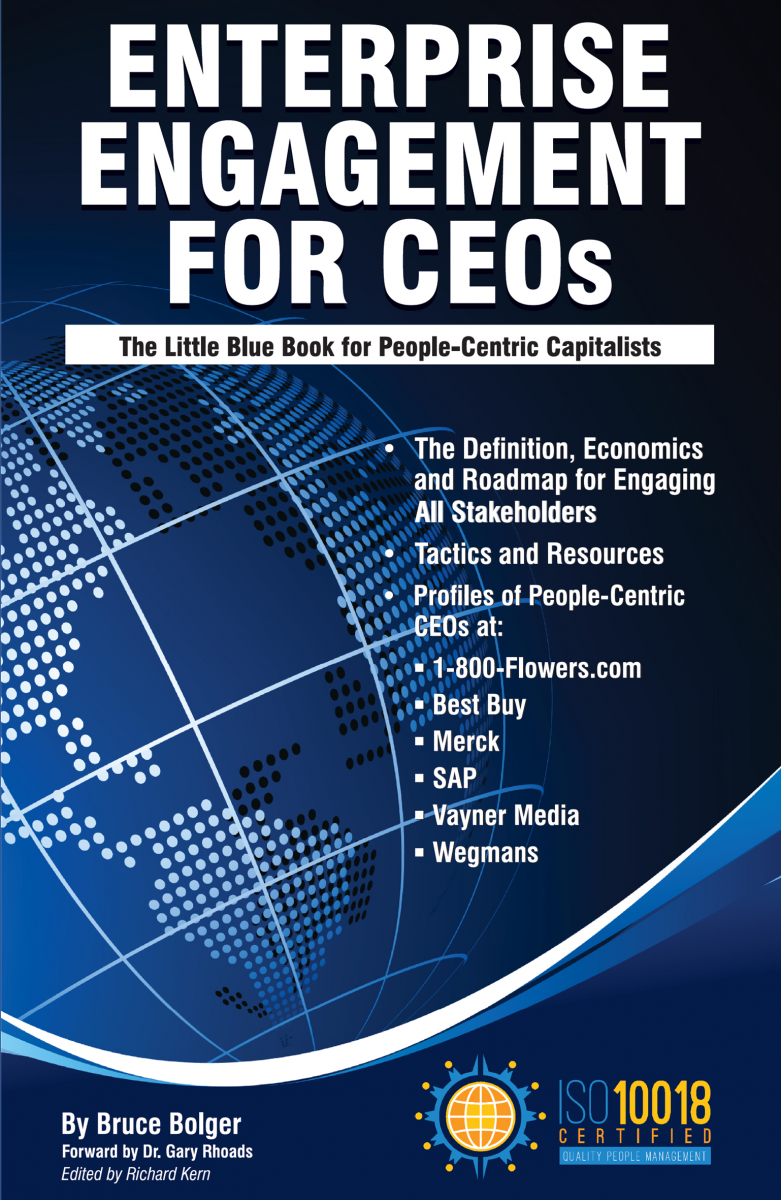 In Print:
This is the definitive implementation guide to Stakeholder Capitalism, written specifically to provide CEOs and their leadership teams a concise overview of the framework, economics, and implementation process of a CEO-led strategic and systematic approach to achieving success through people. (123 pages, $15.99)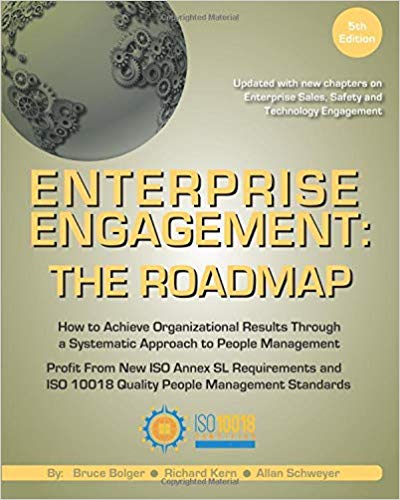 The first and most comprehensive book on Enterprise Engagement and the new ISO 9001 and ISO 10018 quality people management standards. Includes 36 chapters detailing how to better integrate and align engagement efforts across the enterprise. (312 pages, $36.)
Online:
10-minute short course: click here
for a 10-minute introduction to Enterprise Engagement and ISO standards from the Coggno.com learning platform.
Services:
• The Engagement Agency at EngagementAgency.net,
offering: complete support services for employers, solution providers, and technology firms seeking to profit from formal engagement practices for themselves or their clients, including Brand and Capability audits for solution providers to make sure their products and services are up to date.
• C-Suite Advisory Service
—Education of boards, investors, and C-suite executives on the economics, framework, and implementation processes of Enterprise Engagement.
• Speakers Bureau
—Select the right speaker on any aspect of engagement for your next event.
• Mergers and Acquisitions. The Engagement Agency's Mergers and Acquisition group is aware of multiple companies seeking to purchase firms in the engagement field. Contact Michael Mazer in confidence if your company is potentially for sale at 303-320-3777.
Enterprise Engagement Benchmark Tools:
The Enterprise Engagement Alliance offers three tools to help organizations profit from Engagement.
Click here
to access the tools.
• ROI of Engagement Calculator. Use this tool to determine the potential return-on-investment of an engagement strategy.
• EE Benchmark Indicator. Confidentially benchmark your organization's Enterprise Engagement practices against organizations and best practices.
• Compare Your Company's Level of Engagement. Quickly compare your organization's level of engagement to those of others based on the same criteria as the EEA's Engaged Company Stock Index.
• Gauge Your Personal Level of Engagement. This survey, donated by Horsepower, enables individuals to gauge their own personal levels of engagement.
For more information, contact Bruce Bolger at Bolger@TheEEA.org, 914-591-7600, ext. 230.